Indian Super League
NorthEast United's Redeem Tlang - ISL still has room for improvement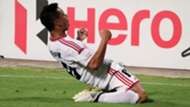 Redeem Tlang was last seen in the Indian Super League (ISL) as a teenager, bustling his way out of the Shillong Lajong academy. The winger was part of the deal that saw Lajong send over a dozen players on-loan to NorthEast United in the inaugural season of the league in 2014.

The 23-year-old now is hoping to play a much more prominent role than his sum total of one minute for the Highlanders from four years ago. "I feel very good to be back with the team. To be from the North-East and playing for NorthEast United gives me more confidence," said Tlang.

After raking in 37 games in four I-League seasons with Lajong post his dreaded first stint, Tlang is confident that he could adapt himself to manager Eelco Schattorie's demands this term.

"I am ready to play wherever coach wants. Everybody is adapting to Eelco's style. Hopefully, we will do well. I hope I assist and score more goals, have been working hard on that."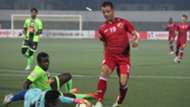 NorthEast United remain the only ISL team founded in 2014 to never have reached the playoffs and Tlang is confident of breaking the voodoo this time around.
He envisaged, "We hope that we can make it to the playoffs this year. We have been together for four weeks. We got to know each other. We had a great preseason. There is no pressure as we have to take it step-by-step. We will do our best and we will give our best for the fans."
"There is not much difference in I-League and ISL but in terms of infrastructure, ISL is better. You can say it is almost perfect but as one says, there is almost room for improvement", Tlang discussed comparing the two leagues.
"Youngsters are getting a chance to play with experienced foreigners. For a player like me, it is a good platform as it helps me grow and the ISL is only good for Indian football," he assessed.