Indian Super League
ISL 2018-19: Sergio Lobera - I think we were very good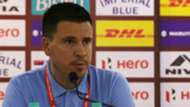 FC Goa head-coach Sergio Lobera hailed his team after an all-round performance that earned the Gaurs a crushing 5-0 win over Mumbai City. But he did admit that the hosts were on the back-foot for a fair portion of the first half.
"We knew that this would not be an easy game and we saw that from the beginning. Apart from that, from the chances that they had, I thought we defended well and we took advantage of the chances that we had. In football, ultimately this is what that counts." he stated.
"In the second half, I think we were very good. We were far superior after we scored the second goal and I'm very happy with the performance of the team."
New signing Miguel Palanca came off the bench to replace Indian Super League's (ISL) top-scorer from last season and found the net twice. The team isn't reliant on a single player to score goals and Lobera is happy with his options on the bench. This will also prove to be a lifeline during the fixture-congestion that Goa will be facing.
"I have always maintained that it is always the team which rises above an individual. We are thankful that we have a team which creates a lot of opportunities and score a lot of goals. It's our good fortune that we have a striker like Coro (Corominas). It's good that we have players who can come off the bench and also score goals."
"I'll be looking at the condition of the players and the next games that we have. The decision (on rotation) will be based completely on that."
Altogether, the 41-year-old was extremely happy with the team after a fine display in their first game at home this season.
"The result is always a consequence of the actions of the game and that is what I would like to highlight. What makes the team win is multiple things in the game working together and that is what happened today".