NorthEast United
ISL 2018-19: Eelco Schattorie - Happy to keep clean sheet against Jamshedpur
NorthEast United climbed to the second position on the Indian Super League (ISL) table after managing a goalless draw away from home against Jamshedpur FC on Saturday.
Speaking about the match, Dutch coach Eelco Schattorie said, "We had two games in a row - Pune and Jamshedpur - so we had a lot of travelling. That had an influence on both games. That game we won, this game we could have won.
"Secondly, Jamshedpur FC did not have many attempts and most of them were from outside the box or corners which our goalkeeper dealt with comfortably. Hence, I am proud of the defensive organisation. No team has managed to keep a clean sheet against Jamshedpur so we are happy to have achieved that."
He further added, "In the end, we are happy with the point but at the same time I want to play better football. The fatigue was a factor today. We need to play three games more and there is not much rest between them and they are very difficult games."
The NorthEast coach was clearly unhappy with their congested schedule. They played back-to-back away matches within a span of five days.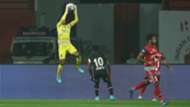 Stating his opinion of ISL's schedule, Schattorie said, "I don't want to criticise anyone. I only say it because I want both teams to compete in the best possible way. There are three teams with a clear disadvantage when it comes to the scheduling from the start of the season to the winter break when I was analysing it.
"One is Delhi Dynamos who have a worse schedule than us and then there is Mumbai City who also have a tough fixture run. Then there are some teams with matches more spaced out. Ideally, you would want at least a three-day break between every game to have players in the optimal condition."
"Of course, you need to respect the schedule of the league but I think it can be better organized. I am not trying to create any headlines and it is not a criticism. I accept the fixture congestion and we have to deal with it but I say for the future. I think everybody should come together and try to improve it (scheduling). It is just an honest opinion."
Eelco mentioned that he was happy with a point from this away fixture. He said, "It is a result and a result away from home is always good. Jamshedpur are a good team who play good football and we showed very good organisation today. I think we could have won as we had two or three good chances in the end but I am happy with the point, looking at the overall circumstances.
"I have to give a big compliment to my right-back (Provat) Lakra. It was his first start, young boy, the first time in the ISL but he played very well against JFC winger Michael Soosairaj after coming on a substitute. I think Soosairaj is a very good player so Lakra's performance was excellent."