Indian Super League
ISL 2018-19: John Gregory - Steve Coppell's teams are tough to play against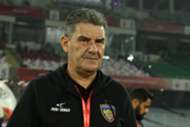 Chennayin coach John Gregory is hoping to outfox his counterpart Steve Coppell when his team hosts ATK in the Indian Super League (ISL) on Friday. 
The defending champions had a woeful start to the season, with just one win from nine matches. ATK, on the other hand, are chasing top-four and occupy the sixth spot on the table. 
Chennaiyin created plenty of chances but failed to score in a 0-0 draw against Kerala Blasters in their last match but Gregory is looking at the positive side of things. 
"It is going to take a lot of hard work and a lot of patience. We need to have more confidence in ourselves," John Gregory began. "Against Kerala, you could see it in the body language of the players, they know they played really well. As a player whenever you come off the field, you know if you have played well, you don't need telling.
"I always ask them, when the game is finished, make sure you have left every ounce of energy on the pitch, don't bring anything to the dressing room. Make sure when you look in the mirror after the game, you can say, I gave everything I got.
"You can spend days and days on finishing sessions and suddenly one ball comes to you in the game in front of goal and it goes in between your legs. Chances were there to be taken. You spend a lot of time in training ground in finishing, when it comes to moments in the game, you trust them to score. You can practice and practice, but it is all about what happens in the game."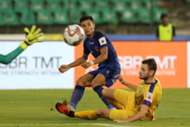 Steve Coppell's teams are known for their defensive solidity and the Chennaiyin coach is expecting a difficult challenge. 
"Playing against Steve's teams is always tough. We had two matches against them last year and three goals in two games. One of those was a penalty. They are tough to play against, certainly, since Andre Bikey has come back into the team, they got even stronger defensively.  They are really a tough team to break down.
"On the flip side, they rely on set pieces. They work hard on their set pieces. We have to be aware of not giving away silly free-kicks. With the delivery that Lanzarote has, they try and exploit the strengths they have got."
The draw against Kerala Blasters at the Marina Arena gave Chennaiyin their first point at their home ground this season, after three defeats. Gregory, however, insisted that his team aims for three points in every match.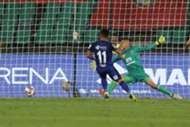 "We have always tried to go for three points in every single game. Even more so in the last few games, because we have got a lot of ground to try and make up. It is something that Steve's team has always done, they have been always strong defensively. They hope to get you on the counter-attack."
Chennaiyin's performance at the back has been unusual. The defending champions have let in 16 goals this season and only Pune City have conceded more goals.
"Nobody likes to point fingers at anyone but without any question, we made bad mistakes, uncharacteristic ones. Players who were solid as a rock last season suddenly made defensive errors.  Against Pune and Kerala, defensively, we were very good. Mailson Alves and Eli Sabia were formidable at the heart of our defence the other night and that is what they have to do every single game.
"Defensively we were great against Kerala and they have to do that each and every week. We have to keep clean sheets at some point. It is a good habit to get to not concede."