ATK v Pune City
ISL 2018-19: ATK looking for Kalu Uche's replacement, reveals coach Steve Coppell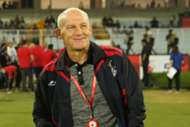 ATK have had a disappointing start to their Indian Super League (ISL) season as they currently sit seventh in the league table with seven points from six matches. They have been lacklustre in attack and to add to Steve Coppell's woes, Nigerian hitman Kalu Uche has been sidelined with a longtime injury. 
"Kalu has gone back to Barcelona. He had an extensive tear in his quadriceps muscles. It is grade three which is quite bad. He has gone to Barcelona to receive further medical treatment. He obviously leaves a big hole in our squad," revealed Coppell.
"We have requested the ISL whether we can replace him in the short team. They have said yes but that creates problems in itself because trying to find someone for a short period of time is very difficult.
"We have sent feelers out for replacements. We expect Kalu to be fit around Christmas so we are really looking for a player to fill in for what could be five games after this game. We got league approval only last night so we couldn't get anyone in for this match."
ISL is set to have another break from November 12 and the British tactician wants to make the best use of that period to fine-tune his tactics.
"The Bangalore game, I feel we could have got something from that. It is not a major surgery that is required (on the team). Obviously at this stage now, every game takes on added significance. As some of the teams are pulling away at the top, you realise that unless you are picking up regular points, you are going to be left behind. So we need to pick up points.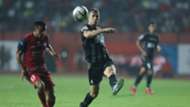 "We do what we always do. We prepare and work hard to try and win the next game. It is the only mentality I have and the players have responded nicely in training this week. We are looking forward to the game against a Pune side who obviously have got suspensions but are still a good side.
"I think lack of consistency is a problem throughout football. Even Pep Guardiola, he won last week 6-1 against Southampton but was still complaining about the number of chances Southampton had. So you strive for perfection. We are very much aware of that. We must seek to improve day-by-day, game-by-game."
ATK have conceded from set-pieces regularly in this season and the former Kerala Blasters coach acknowledges that things need to be rectified. 
"It's a pain for us to be absolutely honest because we work very hard to stop set pieces. You are right that we have conceded too many goals from set pieces. First and foremost I would say, don't concede a set piece and commit a foul. If you do concede one, you have to be alive to situations and defenders have to accept more responsibility. For Miku's goal, you have to hold your hands up and accept it was some strike that we could do nothing about. However, we are very disappointed with the second goal we conceded," said Coppell.
Although Pune will be without the services of Marcelinho and Diego Carlos, the former Manchester City coach thinks that ATK will have to put their best foot forward in order to win the match. 
"Marcelinho is such a dangerous player and so is Diego. They are not available. We would have done our best to win the game even if they were available. If we are to win the game, we have to earn the victory. No one is going to give us the win and make it easy for us. We have to earn it for ourselves.
"In the last game, we lost Kalu when we were ahead. Kalu has been important when he has played because he is the focus and target for us. In losing him, we lost a little bit of our outlet. If we had done to half-time at 0-1, it would have been a different game against Bengaluru. Conceding a goal just before half-time was a big blow psychologically. They scored so quickly in the second half, that is bound to have an impact. You have to adjust everything to try and get a second goal. The game plan went out of the window as we had to attack more and that opened us up at the back," concluded the coach.