Indian Super League
ISL: ATK's Eugeneson Lyngdoh targets national team spot ahead of AFC Asian Cup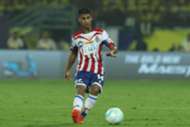 Eugeneson Lyngdoh had a forgettable 2017-18 season in the Indian Super League.
The Meghalaya-born midfielder was sidelined due to a knee injury for the majority of the 2017-18 ISL season. After playing just three games in the season, a now fit Eugeneson is hungry to prove a point and earn his spot in the national team.
"After the injury, it was tough mentally. The team did not do well last season I was disappointed that I wasn't there to help. I had to be strong mentally. I had to be patient." 
"I feel it's important to play more matches to get back to the national team and I need to be available for the team (ATK). Who will not want to play for the national team going into the Asian Cup?"
Lyngdoh believes that the new recruits are adapting well and the current squad is balanced. He also spoke about how the transition in philosophy due to the changes in the coaching staff won't be a problem with the players trying to incorporate the changes into their game.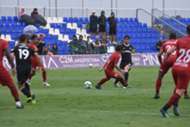 "We have good recruits of Indian and foreign players. The foreigners have known Indian football and they have adjusted well. We have good young players and it is a balanced squad which is very organised. We are hopeful we can achieve what we missed last season.
"Different coaches have different styles. You can't compare Ashley (Westwood) and Steve (Coppell). You have to try to understand what the coach wants. You have to colour yourself with the same mentality of your coach, on and off the field."
The midfielder feels that the pre-season was a really good exposure for the team and they will be looking forward to build on what they've achieved.
"We did well on the pre-season tour. We played teams of different calibre, played bigger teams to test ourselves. The players got through the collective idea of what we want to get. Hopefully, we replicate what we did in pre-season and only get better from here."
Lyngdoh emphasized on the impact of the fans on his performance. The midfielder urged the fans to be present in numbers to spur the team on right from the first game of the season.
"Winning the first game will be important for the momentum. The fans deserve it so we will play to win. I urge them to come out in big numbers. Personally speaking, I can play better when there are more fans in the stadium to cheer you on."