Jamshedpur v Goa
ISL 2018-19: Anas: I don't understand the three-match ban by AIFF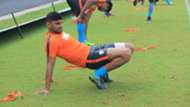 By Sooraj Kamath
Kerala Blasters' have roped in Anas Edathodika for the 2018-19 edition of the Indian Super League (ISL). However, the experienced defender will miss the club's first three matches against ATK, Mumbai City FC and Delhi Dynamos.
This was after he was handed a three-match ban by the All India Football Federation (AIFF) for a scuffle during the Super Cup in a game between FC Goa and his former side Jamshedpur FC.
"I am banned for the first three matches. If you take a look at the video, you can see that I did nothing wrong. I was trying to prevent the players from getting into a fight. Only now did I come to know that you get a ban if you try to hold somebody! I don't know who hit whom.
"I was holding on to the coach Derrick Pereira so that he doesn't get into the fight. You can ask him. I have played under him at Pune FC in 2012 and he has taught me a lot. So I was supporting him and holding on to him. I did not hit him," said Anas at an ISL event in Bangalore.
He further questioned the AIFF Disciplinary Committee's decision of handing him a three-match ban as he claimed he was innocent.
"I was given 1 lakh fine and a three-match ban. I can understand the fine but I don't understand the three-match ban. 
"I've been wanting to speak about this for a while. I've been holding it in and now I got an opportunity to speak about this," he signed off.
Check the video of the tunnel fight between Jamshedpur FC and FC Goa here!