Indian Super League
ISL 2017-18: It's time for Udanta Singh to step up for Bengaluru FC!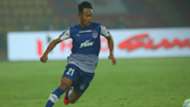 Albert Roca sprung a slight surprise when he named his starting XI in Bengaluru FC's semifinal playoff first-leg against FC Pune City last Wednesday. There was no Udanta Singh on the right wing but instead, Boithang Haokip was named in the first XI. 
Clearly, Roca was being careful in the first leg against a side which was lethal on the counters. And after the 0-0 draw in the first leg, both teams are in a position where they have to score to win. Bengaluru FC will be looking towards their star forwards Miku and Sunil Chhetri to fire but the onus will also be on Udanta Singh who is expected to start. 
The 21-year-old has not really come to the party for the Blues in terms of goals this season and as a right-sided forward in a 4-3-3 or a 4-2-3-1, one is expected to contribute to the goalscoring tally. Chhetri has scored 10 goals this season while Miku has tallied 14 and Udanta has just the lone strike to show for his efforts. 
Udanta was retained by Bengaluru FC ahead of the season and has gone on to make 17 appearances in the Indian Super League (ISL) out of which 14 were starts. He has contributed four assists to his credit but has scored just the one goal which came at the death against a Kerala Blasters side (a 2-0 win at home) which had given up on the game by then.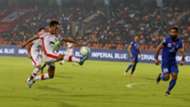 Yes, Udanta is still very young but one has to take cognizance of the fact that he has been around mainstream Indian football for quite a while now. The Tata Football Academy (TFA) product was roped in by Bengaluru FC in the 2014-15 I-League season and since then he has played three seasons of football. 
He was also part of Mumbai City's ISL squad in 2016 and made one appearance. Adding the fact that Udanta also has eight senior international caps, we are looking at a player who has had plenty of exposure. 
There is no doubting the fact that he is a threat on the wings. He is lightning-quick and if given space to run, will hurt any defence. But right now, he is nothing more than that - a speedster. If he is not allowed space to run, Udanta's threat can be marginalised. 
Teams have resorted to doing that against him and the result is that he has created just the six big chances throughout the season. Udanta needs to elevate his game and add goals to his repertoire to make the step up. 
Despite more than 50 appearances in the top-tier, Udanta only has a mere five goals to his credit - damning statistic for a forward. 
It is a bit baffling because he was a handy goalscorer in his youth career. He was the top scorer in the U19 I-League in 2014 as he led TFA to the title. He does have goals in him but it is a matter of translating potential into a tangible product. He has had at least three big chances to score this season but ended up not taking them. 
There is a conundrum when it comes to the Manipur-born lad currently as to whether he is a winger or a forward. His effectiveness as a speedy winger might be neutralised by adept defenders, making it imperative that Udanta adds another dimension to his game.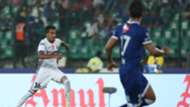 On Sunday, he will play a role in Bengaluru as the team bids to enter the ISL final but he will be up against an enterprising player in FC Pune City left-back Sahil Panwar. The 18-year-old is a strong candidate for the Emerging Player of the Season award and will not be an easy nut to crack. 
Even in the first leg, when Udanta was introduced in the 72nd minute, he could hardly create a chance with Panwar sticking tightly to him. The left-back easily handled Udanta the last time Bengaluru hosted Pune City in a 1-1 draw in the league phase and Roca had to substitute him for Alwyn George. 
To put it simply, just pace will not do it for Udanta! Time to step up and score more!