Indian Super League
ISL 2017-18: Question marks on Guimaraes as Mumbai's play-off chances appear slim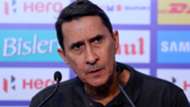 A common conundrum among all club officials is how much control the coach needs to have. If they do not allow the coach to make his choices, he would come back saying that he is unhappy with the squad. If you allow full control to the coach, there are chances that the coach would make a mistake or two and the club suffers for it.
Probably, the answer is somewhere in between where you at least have a couple of individuals from within the club to discuss the signings with the coach. Just to cross-question, show another option in case the coach hasn't taken notice of and so on.
In Mumbai City FC's case, Alexandre Guimaraes got complete control on the signings. To an extent, he deserved to after guiding them to a play-off position last year. However, the signings made in the Indian player draft weren't the smartest. They have no proper full-backs which is highlighted, given the number of times Guimaraes scuppers with his line-up in that position.
Also in midfield, they have Zakeer Mundampara and the only other option is that of Sehnaj Singh, a player who has played 662 minutes and has five yellow cards and a red to his name. In all fairness, he could have got a few more but for the leniency shown by the referees.
The pertinent question to be asked is whether Guimaraes watched the I-League last season. Most foreign coaches base their choices on what they saw during the last ISL. However, none would have watched the entire I-League or at least whatever matches were available on television. In Steve Coppell's case, he watched the entire Federation Cup alongside Ishfaq Ahmed and so they have at least an idea of which players they are picking in the draft going by their recent form.
Most of the Indian players at Mumbai City FC either played for clubs in the bottom half of the I-League table or didn't even feature in the league at all. Many didn't even play more than seven games in the I-League. One of their important players in defence was considered a liability at Mohun Bagan and one of the reasons whose mistake allowed Aizawl to win against them. Which makes one wonder whether Guimaraes did all his research or probably he should have consulted a few Indians for their opinion?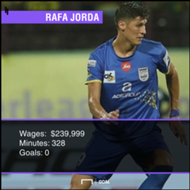 Last season Guimaraes didn't select the Indian players but it was done by at least a couple of Indians. Probably seeking their help would have been smart than choosing to decide all by himself and his assistant coach Juliano Fontana.
When it comes to foreign signings, Guimaraes needs to explain why they did sign Rafa Jorda for a whopping $239, 999 when he has failed to score a single goal. Compare it to FC Goa's Ferran Corominas who is on $185, 000 and is the league's top scorer with 12 goals.
"Rafa Jorda had his chances and sometimes we don't recognise how to involve him in the game but he's trying his best to improve," is Guimaraes' response when asked to explain why the Spaniard, the only number nine in the team alongside Balwant Singh, hasn't scored a single goal. So after 14 matches, the coach is still trying to figure out how to best utilise the services of his striker!
The Islanders may still make it into the play-offs but Mumbai would have learnt their lesson which is to not give complete control of the team to any coach. Let him make his choices but always have a system in place to question what he does as opposed to let him continue with his weird decisions, as witnessed best in the ISL player draft.