Indian Super League
ISL 2017-18: Miguel Portugal and club management to blame for Delhi Dynamos' poor season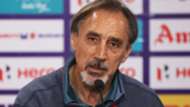 When you know your team cannot defend, why weren't the signings made accordingly? Or rather who decided on the foreign signings? Was it Miguel Angel Portugal? Certainly by his comments in the media, it doesn't appear so. Who decided on the budget? The primary question is did anyone commit that a competitive team could be made with the lowest budget? Or did Dynamos think they could do a Leicester City?
Almost everything about this Delhi Dynamos team looks haywire. The blame should lie with the club management who chose to spend the least. Coach Miguel Angel Portugal has claimed that his side struggle to deal with aerial balls and set-pieces. They had one of the longest pre-seasons and one has to wonder what was being done if Portugal couldn't correct this basic flaw.
Why did they choose to sign only seven foreign players? Why only one foreign centre-back, who has been poor to say the least? Why did they sign a right-back when they already had at least three right-backs on their roster including one who is the first choice for the Indian national team?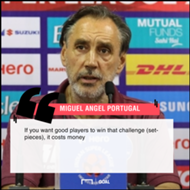 "We know what our problem is, it is set pieces. That is their challenge (for my players). If you want good players to win that challenge, it costs money," said the former Real Madrid 'B' coach after their 1-1 draw against Chennaiyin FC.
This is a clear dig at the club owners and management. Basically, it implies that if you pay lower wages, you get sub-standard players. Whether it was the Aspire Academy of Qatar who helped them sign the foreign players or was it the coach? The club could choose to sanction the coach but the writing is clearly on the wall. Portugal doesn't trust his players and surely, the players too do not believe in the coach anymore.
With regards to the Indian players, they do not have enough experience in their ranks. Is it because of the lowly budget afforded by the club?
"Anything less than the championship is a failure in my eyes," said the club's director Rohan Sharma at the start of the season.
Certainly, it has been nothing short of a disaster. Sharma claimed that Aspire Academy did help with regards to the recruitment of players and the coaching staff.
"Aspire is also willing to help us find coaching staff, players etc. Coach Miguel Angel Portugal has different needs in terms of players and we worked closely with him to make sure we have the right pieces," he mentioned.
Now that Portugal has stated that you cannot expect these set of players to win aerial duels given that they are on lower wages, you have to wonder what Sharma and Aspire would have to say.
Portugal's statement is in stark contrast with that of the club director and the differences are out in the open.
Off the field too, the club hasn't done well. Their attendances have only decreased and you have to wonder whether there was any marketing activity attached to at least get the attention of school kids.
It's time to not tweet and rather focus on getting things right.