Indian Super League
ISL 2017-18: Kerala Blasters' David James - Winter transfer window is the best thing to happen in ISL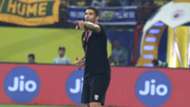 After a disappointing 1-1 draw against FC Pune City at home, Kerala Blasters have travelled to the capital to take on Delhi Dynamos.
Before his second game in charge, Kerala Blasters head coach David James seemed pretty confident that his team can make the play-offs given the quality he has at his disposal.
"As a fan of Kerala Blasters, I think the squad has quality. It is tremendous to work with these group of players, get up the table and hopefully qualify for playoffs," said James. 
After the derby defeat against Bengaluru FC, Blasters sacked Rene Meulensteen and roped in the former Liverpool goalkeeper. James acknowledged that he is still getting to know his squad.
"I am familiarising myself with the players. It is easy to watch as a fan and it is different to qualify as a coach and manage a side. It is disappointing that we did not have the results. So coming now as a coach, I have got to change that. I have to got to understand my players, their strengths and weaknesses. The players are confident, which is a good thing for a coach and [I am] looking forward to the challenge," expressed James.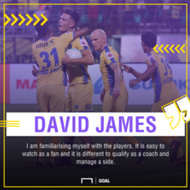 But the gaffer did not want to give out much on the status of injuries in his squad and told that CK Vineeth is available for a fitness test.
"Everyone is available for at least a fitness test. One player is injured but that is not CK (CK Vineeth). Again that is a wonderful thing for me who has joined as a head coach so recently that I am not looking at a dressing room decimated with injuries," stated the former England international.
James has hailed the winter transfer window of Indian Super League (ISL) and thinks that it will benefit all the sides.
"The transfer window is the best thing to happen in ISL. There was a bit of a problem as to who should start because of the size of the squad in the first place. There is an opportunity to change the squad from the beginning. So now the ISL teams will be raising their game more as it is one of the domestic leagues around the world."
PREVIEW: Delhi Dynamos vs Kerala Blasters
"I am not interested in bringing in anyone else because I have my belief on my players and a new manager is brought in to make his team better with what he has got rather than bringing in new players," added James.
Blasters will be the aggressors against a Delhi side who have let in 21 goals in eight matches. A win will take the Yellow Army to the sixth place on the table.