Indian Super League
ISL 2017-18: Kerala Blasters' David James - Four wins from here to go into the playoffs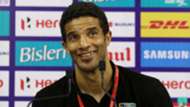 A playoff spot is still within reach for the Kerala Blasters when they take on ATK in an Indian Super League (ISL) clash at Kolkata on Thursday.
The Kochi-based side have shown an upward turn in results since David James started his second stint at the club and have recorded two back-to-back victories before going into Thursday's clash.
When asked what had been the reason for Kerala's turnaround, James replied, "We have allowed players to be at their best. It's a talented squad. I am very fortunate having such players and am enthusiastic going forward."
The Kolkata-based side have been struggling this season on the other hand but James was unwilling to term it as the best time to play the defending champions.
"They have two titles and we haven't. It's a quite simple challenge.  Four wins from here to go into the playoffs," the former England goalkeeper said.
The Englishman also showered praises on star forward Dimitar Berbatov's leadership qualities and said the Bulgarian was back in training.
"When he arrived, his physical state wasn't as good as he wanted to be. He broke down in two to three games. Now he is back in training. Leader, inspirational. Do like them leaders to share their knowledge. Credit to him. He will feature some point in the upcoming games," James stated about the former Manchester United man.
Speaking about the ISL, the Blasters' coach said that the quality of players had increased since his first stint and indicated that the good Indian players will highly be in demand for the next season.
"Quality of players has improved from the first season. There will be a rush to sign the best Indian players next season. The conversation regarding recruitment next season is only about which Indians to sign first," James said.
When asked about the opponent on Thursday, James said he would be analyzing Ashley Westwood's men to find some weak spots.
"We have to utilise the analysis of ATK. Many players not involved many weeks. After Ash (Ashley Westwood) came in, they have a different mindset. We will try and work out what the game plan will be. I have to find one or two things to apply to our advantage," James said before concluding.