Indian Super League
ISL 2017-18: Miguel Angel Portugal - I wait for the future when Delhi Dynamos make a good team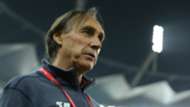 Delhi Dynamos stayed rooted to the bottom place in the Indian Super League (ISL) table after managing a 1-1 draw at home against Chennaiyin FC on Sunday.
The home-side had led in the match through Kalu Uche's spot-kick but were undone by an 81st minute equalizer from Mailson Alves which came from a Rene Milehic free-kick.
Dynamos coach Miguel Angel Portugal rued his side's continued susceptibility in set-pieces and put the problem down to individual errors.
"We always concede from a set-piece. Conceding a goal from set-piece is always hard for us. Today also we conceded from one and I told you in the pre-match also about our situation. We are training, training, training to defend set pieces because we always want to win but it's a problem with individuals," he lamented at the end of the match.
The Dynamos side missed some good chances in the first-half which could have put the game to bed and Portugal put it down to having a young squad with not much experience.
"Today we played with a young team. They are young – you saw Chhangte (Lallianzuala), Vinit (Rai), Sajid (Mohammad) and Mumnum (Lugun). We had many chances in the first half. Individually I tell my players to enjoy their game and then when the opportunity presents itself, we need to make the goal. First thing is to enjoy themselves but we also want to win when the chance comes," the Spaniard explained.
When asked what had gone wrong for the side this season after starting it with a bang, the former Real Madrid youth team coach once again pointed towards vulnerability with set-pieces. The Spaniard also hinted towards a lack of quality in the squad.
"That is very difficult for us. Nobody wants to lose. I am happy though because my team plays football. They try to win by playing football but it is very difficult to do when you concede when you are one goal up or two goals up. We know what our problem is, it is set pieces. That is their challenge (for my players). If you want good players to win that challenge, it costs money," he stated.
With just eight points from 13 games so far, the Delhi side are well and truly out of the reckoning for the top-four spots and Portugal was already looking ahead to the next season.
Asked what the motivation for his side is at this stage of the season, Portugal replied, "Play football. For us, the thing we have at this moment is our ideals because a good classification is not possible for us anymore. For us it is about enjoying playing football and then trying to win. By playing football, we can win."
"But we can't win with young players. For these young players, this experience is very important for the future. I wait for the future when Delhi Dynamos make a good team. With these young players, you need more experience. And now with this experience, it will make next year's team a good team because you have a good base with young Indians," he added.
The Delhi tactican also rued the injuries to his side which had seen the likes of Jeroen Lumu miss out on Sunday.
"Rowilson (Rodrigues) was only training with us yesterday, Lumu (Jeroen) also only yesterday. Nanda (Kumar) was not ready and Edu (Moya) was not ready," Portugal said before concluding.