India v Kenya
Stephen Constantine looking forward to the AFC Asian Cup after Intercontinental Cup triumph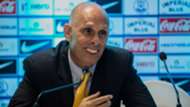 The Indian national team were crowned champions of the 2018 Intercontinental Cup after Stephen Constantine's side defeated Kenya 2-0 in the final, courtesy a Sunil Chhetri first-half brace (8', 29') at the Mumbai Football Arena on Sunday evening.
There was an electric atmosphere from the supporters of the Blue Tigers, especially from a section of the fans who call themselves the Blue Pilgrims.
Acknowledging the fanfare, the India head coach commented, "The crowd was the extra man. The players were tremendous, the work rate was amazing. Although Kenya put pressure in the second half, the guys did well and I'm proud of them."
"The Kenyans showed how tough they are. They played two days ago and yet put up a tough fight."
Constantine went on to praise his captain Sunil Chhetri who was adjudged as the Player of the Tournament for his eight goals that included a hat-trick and two braces.
"Sunil is unbelievably fit, he looks after himself. He's able to maintain his fitness since he's professional," said the Englishman.
India opened the tournament with a 5-0 win over Chinese Taipei, beat Kenya 3-0 but fell to a 2-1 loss against New Zealand in the group stage wherein Constantine had made as many as seven changes.
The former Rwanda coach meanwhile has already shifted his focus to the 2019 AFC Asian Cup to be held in the UAE.

"The tournament was very satisfactory. We needed to win the tournament but the vision is for the Asian Cup. It's the thing. I know how big and important it is for the country," Constantine stated.
"There are areas we can get better and improve. We know we have a huge task for Asian Cup. We would have teams which are a step above Kenya in the tournament. The character and resilience impressed me the most," he added.
Constantine also took a moment to appreciate the facilities provided to his side and for the tournament in Mumbai under the leadership of Mumbai District Football Association (MDFA) president Aditya Thackeray.
"Having a camp in Mumbai has been tremendous. Aditya Thackeray is a huge supporter. I like coming here. It's needed that we have a right atmosphere to prepare," he reasoned.
Lauding  the All India Football Federation (AIFF) and its chief Praful Patel, Constantine also stated, "The prize money we're getting ($50, 000) has been doubled by the AIFF and Mr. Patel."