Indonesia
Indonesia's Andik Vermansah ready for Singapore test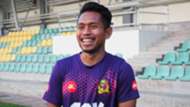 Indonesia will begin their quest for AFF Cup glory by taking on Singapore on Nov 9 at the Singapore National Stadium.
It promises to be a fascinating encounter between the two sides and Andik Vermansah has insisted that Indonesia will be ready to face the Lions.
"To be honest I have confidence, our team has very talented young players. We are not afraid even if we play anywhere," Andik said.
"Especially lately we often win against Singapore, it becomes a belief," continued the former Selangor FA and Kedah FA player.
Moreover reports of away ticket being sold out thrilled the winger and he hopes to also get support from Indonesians working in Malaysia.
"If that is true, I am very grateful. Hopefully TKI [Indonesian Workers] in Malaysia can go there again. It can add to our passion to compete."