AFC U16 Championship
India U-16's Gurkirat Singh: Representing India is a matter of pride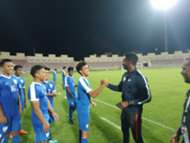 Hailing from the famed All India Football Federation (AIFF) Academy, tall defender Gurkirat Singh's affinity towards football started in a small village in Punjab. 
He accompanied his brother to football matches played on the fields and was attracted by the sport. The decision to take up a career in football followed soon after and he attended the trials at the AIFF Academy. 
India U-16 head coach Bibiano Fernandes liked what he saw in Gurkirat and he was ultimately selected to be a part of the Goan coach's U-16 set up.
"I was scouted at the nationals. Bibiano came to see the games, he liked my game and selected me. The experience at the AIFF Academy has been very good and the facilities are great," the defender told Goal. 
"There is a lot of talent in Punjab but the players get few opportunities. This is the reason most can't make it here at this stage." believes Gurkirat.
Playing against strong Asian teams will demand high levels of composure and skill from the defender but the Punjabi believes they have encountered stronger teams than the ones they are about to face. 
"The confidence is good. We have played against better teams like the USA, Norway and Valencia in Spain. Our levels are almost similar to them.
"We have prepared well because if you want to make history, you have to do good preparations, make sacrifices and we are here to make history.
"It is a matter of pride that we get to represent our national side at this age and travel to so many countries and face good teams. Very few people in India get this kind of an opportunity."
Gurkirat knows what it means to play for India and he is all set to be part of a defence that aims to keep out the likes of Iran and Indonesia in the group stage of the 2018 AFC U-16 Championship in Malaysia.