India
India's Sandesh Jhingan: Passion and commitment is what I want to see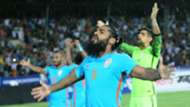 Sandesh Jhingan was the star performer for Team India as they held off the Chinese threat and came away with a 0-0 draw in an international friendly in China on Saturday.
 
The 25-year-old was pleased with the passion with which the players took to the field and that every player in his team was fully committed to the cause. He acknowledged that the strength of the Indian team lies in how they defend collectively.
 
"We knew if we defend well, it is one of our strengths, we were going to get chances up front. I think it was an even game. They got chances, we got chances as well. I am really proud of the team, the way we defended and the way we played. That passion…that is what I want to see from the team. The commitment we showed was second to none.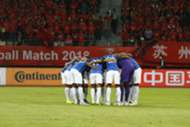 "We (want to) build on this. Defence is one of our strengths, there is no hiding that. The whole team, our strikers, (namely) Jeje (Lalpekhlua), Sunil (Chhetri), we defended well and attacked together. We all worked hard for the team. The unity and bond in this team, I have never seen it in my life. That is our biggest strength," he mentioned. 
Jhingan pointed out that Gao Lin and substitute Xiao Zhi were a threat and gave him a tough time. He also opined that 0-0 was a fair result. 
"I had a tough time. I did not have the best games, in the way I wanted. I had a tough fight with number 18 (Gao Lin) and number nine (Xiao Zhi) also was good but number 18 was a clever player. I had a tough fight with him and he gave me a tough time. We kept a clean sheet and so I am happy about that.  
"We wanted to win. The chances we got, we should have won. But they also had chances. I think I would call it a fair result. They hit the post twice. We also got really good chances. So I think I will take a nil-nil."