Arsenal
'It's in Alexis' best interests to do well' - Wenger not expecting rumour dip from Arsenal star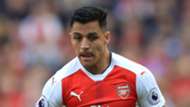 Arsene Wenger believes it is in Alexis Sanchez's best interests "to do well" for Arsenal regardless of questions surrounding his future.
The Chile international continues to spark exit talk, with Manchester City among those keeping a close eye on his situation.
Arsenal to win any major trophy - 15/8
Arsenal maintain that he is not for sale, despite entering the final year of his contract, and have no intention of relaxing that stance.
Instead, the Gunners are looking for Sanchez to maintain his high standards through a testing period and aid the club's quest for more major honours at home and abroad in 2017-18.
Wenger told reporters when pressed on whether he expects his star forward to give his all to the Arsenal cause:  "Of course [he will]. Why not?
Sanchez told to respect contract
"If you look at it, it's always in your interests, even if you have a short contract, to do well. 
"And the kind of character he is [also convinces me]. He is a winner. When he goes on the football pitch, he wants to win.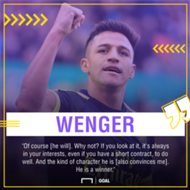 "He is a guy who loves football. He has advantages and disadvantages on both sides going into a situation like that.
"When you have made 75 points [last season], your target is to get 10 points more. And with 10 points more, you are in there [the title race]."
Arsenal will not be in Champions League competition this season, with the club having to make do with Europa League outings.
Wenger: Arsenal have to cope with no CL
Wenger plans to give the tournament his all, but is still not a supporter of the decision to grant the winners a route into Europe's premier club event – with Manchester United ultimately favouring that path in 2016-17.
The Frenchman added: "You cannot go into the season and think that [is going to be your route into the Champions League]. 
"I was always not in favour of that, because I think at some stage it can influence the championship, because if a team is in April in a position where they have more chance to win the Europa League they can let some games go in the championship, and not completely focus on that."
Arsenal will be looking to collect the first silverware of the new season on Sunday when they face defending Premier League champions Chelsea in the Community Shield.