Arsène Wenger
'If Jose Mourinho had done what Wenger did, they'd probably be taking away his coaching badges'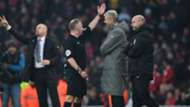 The pressures of pushing for the Premier League title while attempting to resolve the futures of key men are taking their toll on Arsene Wenger, according to Paul Merson.
The Arsenal manager allowed his frustration to boil over in the Gunners' most recent outing, with the Frenchman sent from the touchline during a dramatic 2-1 victory over Burnley.
Wenger hit with four-match ban
Having become embroiled in a war of words with the match officials, which eventually led to him pushing Anthony Taylor, Wenger has been stung with a four-match ban by the Football Association.
He will now be forced to watch from the stands as Arsenal look to progress in the FA Cup, while also seeking to close the eight-point gap which currently separates them from Chelsea at the English top-flight summit.
Wenger also has contract extension issues surrounding Alexis Sanchez and Mesut Ozil to contend with, along with his own deal that is due to expire at the end of the season.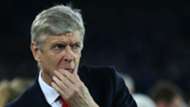 Former Gunners forward Merson fears all of these commitments are becoming too much, with the Arsenal boss fortunate not to have been hit with a harsher punishment for losing his temper and in danger of seeing another title slip through his grasp.
He wrote in a column for the Daily Star: "Arsene Wenger did the right thing accepting his FA charge for pushing a fourth official. But he's really been showing his frustration lately.
Wenger praises fearless Welbeck
"And if Jose Mourinho had done what Wenger did, they'd probably be taking away his coaching badges, wouldn't they?
"Wenger's been in bust-ups before but I can't really remember him ever doing something like that before and I think it's just frustration.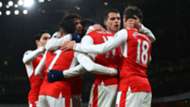 "Arsenal are second but no-one is really talking about them as title winners, and I can't see them winning it if I'm being honest.
"You watch them and usually there are 12 or 13 times a season when they're breathtaking. I've not seen that too many times this season.
The Turkish chef behind Ozil's success
"They are going to the wall too many times against sides they should be beating. People say that's showing character but these are teams you should be destroying.
"You can't do what Wenger did. It's out of order. But I think the situation with Alexis Sanchez and Mesut Ozil is playing on his mind as well.
"It's been going on for weeks now and it's taking it's toll. It should have been done by now but I think both players are waiting to see what happens."