Arsenal
'I'd rather win 5-4 than 1-0' - Emery ready to entertain at Arsenal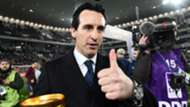 New Arsenal head coach Unai Emery has suggested that he will be looking to excite a demanding fan base, with the Spaniard claiming he would "prefer to win 5-4 than 1-0".
With Arsene Wenger's iconic 22-year reign in north London having come to a close, those at Emirates Stadium are preparing for the start of a new dawn.
Former Sevilla and Paris Saint-Germain boss Emery is the man to have been charged with the task of rebuilding a faltering squad which has lost a once solid standing within the Premier League's top four.
He will be expected to take things in a different direction from his predecessor, with Wenger considered by many to have lost touch with the modern game, but the Spaniard has hinted that there will be no immediate strengthening of a shaky defensive unit.
Emery told reporters at an opening press conference when explaining how he wants his Arsenal side to play: "With personality. This personality for all the minutes of a match: protagonists.
"I like possession with the ball, I like good pressing against the other team.
"I prefer to win 5-4 than win 1-0."
PSG certainly delivered on that philosophy in 2017-18, with Emery's Ligue 1 title winners netting 108 times in 38 games – although even that was not enough to keep a highly-rated coach in his job.
He, like Arsenal, is now readying himself for a fresh start, although he intends to stick with the principles which have served him well down the years.
Emery is famed for his in-depth analysis of opponents, with the 46-year-old promising more of the same in English football.
He added: "I love the analysis, and going through the whole match like a movie.
"Then, I work through all the situations, all the things in the match, every day in training sessions.
"I love to work with all the players and individually with the players to improve their technique, tactics, mentality. I also like to speak with the players directly, to speak with their heart and one connection to find that connection with individual players and the whole team."