FIFA 19
"I'd beat Bolt!' - Sprint king Traore crowned FIFA 19's fastest player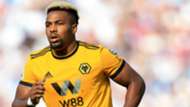 Adama Traore has been crowned the fastest player on FIFA 19, and says he would beat Usain Bolt in a sprint!
The Wolves winger has been handed a pace rating of 96 on the new game, narrowly beating PSG star Kylian Mbappe.
And Traore is so confident in his speed he says he would beat legendary sprinter Bolt, who recently made his professional football debut for Australian side Central Coast Mariners after winning five Olympic gold medals, across a short distance.
"It is nice to be known on FIFA 19 as the fastest player in the world," he said, per The Sun.
"But Usain Bolt has started playing for Central Coast Mariners so I might have a rival next season. Just remember, Usain didn't have to dribble a ball while he was winning his gold medals!
"Clearly Bolt would beat me over 100 metres on the track. But on grass, over 30 metres with a ball at my feet? I'm winning that race every time!
"It is completely different with a ball. I have trained with expert sprinters many times and they all agree running with the ball and running without the ball requires two completely different techniques.
"I was told I didn't have to lift my knees so high because I will never have to sprint 100 metres during a game.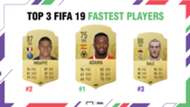 "I usually sprint for 20 to 30 metres — occasionally 50 to 60 metres maximum. But no footballer ever sprints a complete 100 metres during a game.
"Likewise, Bolt trains to last the full 100 metres — he doesn't adjust every five metres to keep a ball under control!"
Traore has yet to play 90 minutes for Wolves this season, but scored the winning goal in their recent victory over West Ham.