Opinion
Icardi or Higuain? Serie A's Capocanniere battle will define who leads Argentina at the World Cup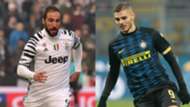 ---
COMMENT
---
The race between Juventus hitman Gonzalo Higuain and Inter's young captain Mauro Icardi for this year's Serie A top scorer gong will prove to be one of the most intriguing subplots of the Italian season. But the Capocannoniere battle may just hold a greater prize for the winner.
Higuain 2/1 to score 2+ Saturday
Higuain and Icardi are both gunning for a place on the Argentina plane to Russia in June 2018, and their records in front of goal over the next season will have a direct bearing on who gets the nod as Jorge Sampaoli's main man up front.
The ex-Sevilla coach has already ruffled feathers amongst the Albiceleste flock. His first squad marked Icardi's first call-up for over three years, snubbing one of the sacred cows for previous trainers in the shape of Sergio Aguero. For the upcoming qualifiers against Uruguay and Venezuela which kick off in Montevideo later this month, Sampaoli has made another momentous decision.
Icardi retains his place, and rejoins a competitive Argentina squad right where he left off – his debut came in a dead rubber World Cup qualifier in Montevideo against Uruguay in November 2013, when all observers were given to believe he was the future of the No. 9 jersey. Aguero too has regained his place, leaving Higuain out in the cold for two decisive matches in the quest to make Russia 2018.
"Higuain will not be there in Montevideo, just like in Rio de Janeiro and Santiago." Twitter was abuzz with such comments when the squad was made public and Higuain's absence confirmed. The Juventus man has become the living embodiment of Argentina's failure to push on and win against Germany in the 2014 final and in consecutive Copa America deciders against Chile, exposing him to social media ridicule.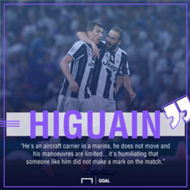 A similar no-show in June's Champions League final has only heightened the feeling that the burly forward goes missing when the stakes are highest, casting a shadow on a fine debut season for Juve that yielded 24 Serie A goals and saw him finish just shy of Edin Dzeko for the Capocanniere. That the spotlight is on him again is in no doubt: a scathing editorial in Tuttosport following Supercoppa defeat at the hands of Lazio called the Argentine an "aircraft carrier in a marina, he does not move and his manoeuvres are limited... it's humiliating that someone like him did not make a mark on the match."
Icardi, on the other hand, knows how to cope when the going gets tough. At just 22 he was handed the Inter captaincy, and has been a rock for the Nerazzurri in what have been seasons of underachievement and near-chaos. His performances in 2016-17 tell an eloquent story: forced to push the team forward almost single-handedly in a campaign where three coaches came and went, and even facing calls from his own fans to quit due to revelations in his autobiography, Icardi smashed 24 goals in 34 Serie A games to match Higuain and help Inter to seventh place.
We may never know if the forward, still only 24, was held back internationally due to claims he was a 'traitor' in getting together with Wanda Nara, the exuberant Argentine model previously married to former team-mate Maxi Lopez. The gossip mill has long held that Lionel Messi vetoed his inclusion on the grounds he was a potentially disruptive presence in the dressing room (and in deference to Lopez, a friend of the Argentina captain), but Sampaoli has seemingly had few problems in overturning that prohibition almost as soon as he walked into the job.
What is certain is that the young Inter captain has shown admirable loyalty to his club, staying put through one of the worst periods in their history, and that he is dying to show what he is worth for the national team.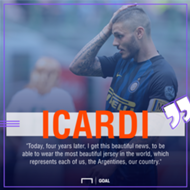 "My dear Argentina, today after four years we meet again," he wrote on his Instagram page after receiving the call.
"The last time I wore these colours was in that distant 2013, fulfilling the dream of making my debut in the senior team aged just 20, thanks to my work and sacrifice.
"Today, four years later, I get this beautiful news, to be able to wear the most beautiful jersey in the world, which represents each of us, the Argentines, our country. That is why today I thank all those who trusted me. I do not like making promises, but of one thing I am sure: I will do everything for you, my dear Argentina."
It will be Icardi's responsibility to back up those words with actions when Argentina take the field against Uruguay and Venezuela. Higuain, meanwhile, will have to bide his time and send a message to Sampaoli that he still has plenty to offer at the highest level.
Winning the Capocanniere would be a great start, but there too he will meet with fierce competition from his younger rival. Pipita has to show his mettle in big games, while Icardi will be forced to demonstrate his dressing room loyalty; but first and foremost Argentina want goals, and it is on that criteria that the No. 9 jersey for Russia will ultimately be decided.