Zlatan Ibrahimović
Ibrahimovic questioned after making 'no impression at all' on Man Utd return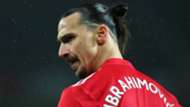 Zlatan Ibrahimovic is struggling for fitness after making "no impression at all" following his Manchester United return, says Paul Parker.
The Red Devils opted to hand the enigmatic Swedish striker another short-term contract after seeing him make a full recovery from the knee ligament damage which brought his 2016-17 campaign to a close.
He was not expected to be back in action until January, but Jose Mourinho drafted the 36-year-old into his plans for a Premier League meeting with Newcastle on November 18.
Ibrahimovic has made a further four appearances off the bench since then, but is still looking for his first goal and made little impact during a 2-1 derby defeat to Manchester City last time out.
"Zlatan came on at the weekend against City and made no impression at all. He didn't really jump, was beaten in the air, and was beaten to the ball," former United defender Parker told ESPN FC .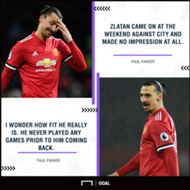 "I don't think at the moment that Manchester United fans could say 'great to have him back' if he was to be left out for Lukaku.
"I wonder how fit he really is. He never played any games prior to him coming back to test the knee. Training doesn't do it.
"One thing that he never did [against City] was run in behind, and everyone now is a little bit sceptical about how fit he is at the moment."
Ibrahimovic netted 28 times for United last season, as he helped them to Community Shield, EFL Cup and Europa League triumphs.
He is, however, now among those scratching around for form at Old Trafford.
Another of those to fit into that category is Luke Shaw, with the 22-year-old full-back still struggling to convince Mourinho of his worth.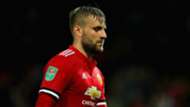 Parker, though, believes that a man being heavily linked with a move elsewhere during the January transfer window will come good if given a chance.
The former full-back said: "He's working hard, saying all the right things, and he wants to play for Manchester United.
"I really do believe he wants to prove himself. Otherwise, he'd be shouting and screaming about the manner in which he's been treated.
"It could have been handled better by Mourinho. I believe there should have been a bit of compassion towards what he's had to go through physically and mentally after breaking his leg in Europe [against PSV in September 2015].
"He should be allowed to play his game so people can see how good he can be, in a relaxed atmosphere, rather than being always intense and worried that he's going to be pulled out on the back of a poor performance."
Shaw has made just three appearances this season and is still looking for his first Premier League minutes of the 2017-18 campaign.