Premier League
'I thrive off proving people wrong' - Sterling feeding off media criticism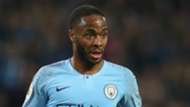 Manchester City star Raheem Sterling says he loves to prove people wrong, as he continues to prove his worth to Pep Guardiola's side.
Sterling, after helping England to the World Cup semi-finals for the first time since 1990, has been in electric form for City thus far this season.
He has scored eight goals and provided eight assists in 17 games in all competitions, yet he has often been criticised in the media for his off-field activities.
Stories in outlets such as the Daily Mail have drawn attention to him buying a house for his mother, as well as having the gall to eat breakfast with his girlfriend after the PFA Player of the Year awards.
"I grew up saying to myself, 'I'd love to buy her (my mum) a house, so she could stop working, so she doesn't have to stress about anything.' When I tried to stop her from working, she stopped for a year but wasn't having it," he told The Times.
"She couldn't sit down. She got back into nursing. So I don't see anything wrong with buying my mother a house.
"The story I could not get my head around was the breakfast one. I went for breakfast with my missus, and it said I'd gone for breakfast 'despite not winning the PFA young player of the year' [award last April]. What are you trying to get at here? It was just trying to be negative. I'd just gone for breakfast."
However, Sterling insists that such stories merely add fuel to his own personal fire as he bids to become one of the best players in the world.
"Honestly, I'm not even bantering, I don't try to think about that side any more, negative or positive," he added. "I am more trying to be the best I can be, be happy, with myself and my family.
"A lot of young kids reach out to me, saying, 'You're an inspiration.' They always tell me to keep positive and don't look at what negatives are being said about me, and it's good.
"I try to give them positives and show them no matter what someone says, what someone believes, to keep trying. I was told I wasn't good enough to play for City, that I was a waste of money. Before I came to City I was meant to be one of the best young players in the world; two months there and I was the worst thing going.
"What happened there? The media perception changes — 'He can't do this, he can't do that.' I just tried to build myself up and be confident in myself and try to prove people wrong. That's a big part of me, trying to prove people wrong. I thrive off that. If someone says I can't, I say, 'I can.' I keep trying to do better."