Mohun Bagan v Chennai City
I-League 2018-19: Mohun Bagan got their confidence back, claims Shankar Lal Chakraborty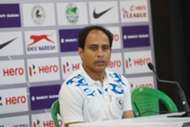 Mohun Bagan are uncharacteristically winless in their  I-League games. Churchill Brothers handed out a 3-0 beating last weekend and on Sunday, they only managed a 1-1 draw with Chennai City FC.

However, head coach Shankar Lal Chakraborty feels that the result was no less than a turnaround of sorts before they face arch-rivals East Bengal after a two-week rest.

"After the 3-0 loss, it was important to get back our confidence. We have got our confidence back and now during the break, we will try and improve our gameplay," he said.

"We had three to four scoring chances. Chennai had so many variations in their game that we had to be balanced. When we scored in the 50th minute, we tried to hold the lead. But naturally when the opponent gets an equaliser, they get rejuvenated and they attack more. But the boys gave their all till the last moment which is positive.

"We were not at all defensive. I did not ask my boys to defend with nine men. But when the opponents are increasing bodies you have to track back and defend," he defended his tactics.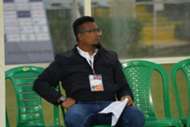 On the other hand, his counterpart Akbar Nawas mentioned that his team is satisfied despite going for the win. "I don't want to comment whether this is a lucky escape for Bagan. This is football, you create chances and if you don't take them, you draw. I have to look at the positives for my team and prepare for the next match.
"We always want to win. If we draw or lose, we have to reflect on the match. It is not about the points table. We are not a big team that has pressure to win always. We don't have the history or legacy. But my philosophy is to win and we must do it."
Reflecting on the good start his team has got off to, the Singaporean accredited that to the club's utilisation of time after the end of last season.
He revealed, "We had a plan in place. Since April I have gone to various corners of Tamil Nadu to pick the players. We held a three-day day selection trial. Then we trained with 40 players for 10 days and finally, we chose a few."