I-League
I-League 2017: Shillong Lajong's Thangboi Singto- The duration of I-League is very tight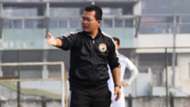 After defeating The Mumbaikars 3-1 on home soil, Shillong Lajong look to complete a hat-trick of wins at Jawaharlal Nehru Stadium. The Meghalaya outfit host new entrants Chennai City in in the sixth I-League match on 31st January, 2017.
Head coach Thangboi Singto has shared his confidence in the team following a run of positive results. The gaffer commented that the squad is finally working successfully as a unit and delivering the aspired results.
'"As I have mentioned before, the team needed time to play together to gel and I think it has finally started to show (on the field). We have to now continue with this style of play. We started with the first home game against Minerva (Punjab) and we have progressed from there. We played much better against Mumbai FC in terms of creating chances and we need to carry the momentum forward,'' he expressed.
Further, the Manipuri stressed on the tight schedule of the tournament and its ill effects. Thangboi explained how playing matches with short recovery period affects the health of players.
''I think the duration of the I-League doesn't really help to make the fixtures feasible and rest oriented for the teams because it's ending in April and it's very tight, the duration of the league. It could have been longer or maybe a match in a week (for every team). We could have given players much better rest and if they rest better, definitely their performance on the pitch will be better. We would see a better output of football (quality) in the field,'' he discussed.
AFC Cup 2017: Know Mohun Bagan's Rivals - Colombo FC
Singto has termed Chennai as a tough opponent especially taking into consideration the quality of their players. Also, he added that the South India outfit include a good blend of youngsters along with the experienced players which makes them a strong side.
''(Haroon) Amiri has been there for so long in India, Eche(zona) (Anyichie) has been there. The two strikers up front are strong and physical. They have players like Denson (Devdas), Dhanpal (Ganesh) and Abhishek Das. They have a lot of players who has a lot of experience of Indian football, players that have played at the top level. So they have experience and they have youth at the same time. It will be a tough game but very, very exciting, too,'' he stated.
Lastly, the Lajong boss informed about the players sidelined for the fixture on Tuesday. ''Zodingliana (Ralte) still out with no return date and Dan Ignat has a 50-50 chance,'' he signed off.
As for visitors Chennai, they fly to Shillong after registering their maiden win of the tournament, following a 2-0 against Khalid Jamil's Aizawl outfit. However, it hasn't been a merry ride for the Southerns as coach Robin Charles Raja mentioned about the hurdles faced by his side.
I-League: Injuries, poor performances from star players clip Bengaluru FC's wings
''The team was confirmed only on 10-11 December 2016 and out of the first eleven we had the services of five players just three days before the first game. Still, we just plan and take each match as it comes with the experience of most of the players and some youngsters from Tamil Nadu. In between the Asain Cup maybe we'll get a short break which will be helpful for us,'' he revealed.
The newbie franchise will be playing on artificial turf for the first time when they encounter Lajong. Talking about it, Raja said, ''(Certain) Players would have played (in artificial turf) but for us as Chennai City we haven't. Once we get into the field, it's going to be just another match. We have had a lot of setbacks and we've come out of it and we don't take this as a setback.''
The gaffer concluded with the confirmation of Karanjit Singh's absence for the tie as the goalkeeper is still injured.