I-League
I-League 2017: Sanjoy Sen - It's a proud moment for all Indian coaches seeing Khalid Jamil going so far with Aizawl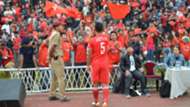 Mohun Bagan received a body blow to their title aspirations courtesy a 0-1 away defeat to Aizawl FC. 

An Aizawl defeat against Shillong Lajong followed by a Mohun Bagan victory against Chennai City FC is the only way the Mariners can win the title so far - which would be a road too far in all probability even in this topsy turvy I-League. 

Sanjoy Sen though refused to blame circumstances - the incessant rain and the poor visibility - for the defeat. 

"The weather is not responsible. No complaint for the weather and rain because both teams were playing in the same condition. Definitely we were better than Aizawl but the result does not always go that way and we have to accept it," said the Mohun Bagan gaffer. 

Khalid plays down champions talk

However the former Prayag United coach said that his side were by far the better side but were equally guilty of spurning too many chances. 

"We were the better team because first half Duffy missed a sitter and Jeje was not given a penalty. Aizawl did not create many chances too. We dominated most of the exchanges," he stressed.

Sen though readily congratulated his opponents who were on the cusp of history while commending the fan support at Aizawl.

"First of all congratulations to Aizawl FC. We tried our level best but luck was not with us. The ambience and support was outstanding. Obviously they wanted their home side to win but they were very sporting," he observed.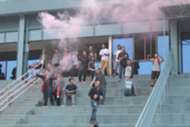 The I-League winning manager said he was delighted at the achievement of his fellow manager Khalid Jamil and said it was a historic moment for Indian football.
"It's a great achievement for Khalid because this is the first time he is out from Mumbai so it is nice that an Indian coach has gone so far. It is actually a proud moment for all Indian coaches and great for Indian football," he noted.
Minerva owner banned for eight matches
However the optimist in Sen noted that there was a slight chance that Mohun Bagan can still win the league.
"If we can win the last match, there is an outside chance to win the I-League. I will never pray that any team will lose but in football anything can happen so we are keeping an open mind and we will strive to win our last match," he concluded.