I-League
I-League 2017: Khalid Jamil: Aizawl FC still have one match to go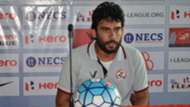 Aizawl FC took one huge step towards the 2017 I-League title on Saturday as they got the better of Mohun Bagan thanks to Zohmingliana Ralte's 83rd minute winner.
Speaking after the game, gaffer Khalid Jamil was pleased, but made it clear that the job's still not done.
"We still have one match to go. That is a very important match. Shillong Lajong are a difficult opponent to face," he said flatly.
He reserved some special praise for the fans who ensured that the tie was sold-out and the turnout was impeccable despite heavy rains.
"It was good. We are very happy with the support our fans have shown and this win was for them. But now we need their support in the next match also. I asked the supporters to give their hundred per cent, and they delivered," he applauded.
The Kuwait-born gaffer preffered to hold his horses till the final matchday as both, his side and their title rivals Mohun Bagan, play what he feels are very good sides.
"Shillong are a good side. But at the same time, Mohun Bagan play Chennai City FC and they're also a very good side. So let's wait till the final matchday to see what happens," he felt.
He refused to single out praise for individuals, praising the collective effort instead.
"The boys are working very hard. Focussing in the training. Giving their all in the matches. And they're enjoying every moment. Everybody was playing with great intent today. From Albino (Gomes), Ashutosh (Mehta) to Kamo (Bayi), goalscorer Zotea (Zohmingliana Ralte), everyone gave their all," said the former India international.
Sanjoy Sen had remarked that his Mohun Bagan side were better than Aizawl, and Jamil chose not to fuel it further.
"I don't have any comments about it, but they are a very good side and there's no doubt about it," he brushed aside.
When asked if a title charge was on their minds when the season began, Khalid made it clear that it only became a belief as the games went on.
"No, we never had that in mind. But as the games went on, we realized it could be possible. But the credit goes to the players who have given their all this season," he said.
Jamil's former side, Mumbai FC were relegated shortly after Aizawl's win, but when Jamil was asked how different life felt at the other end of the table, fighting for the title instead of for survival, he fell short of words.
"It is a huge difference. And it also feels very good!"
Before closing up, he was asked about the champions tag associated to his side already, and he gave a teasing reply.
"Let's see after the next match," he concluded.