I-League
I-League 2017: Aizawl FC's Khalid Jamil - 'The players were aware of East Bengal's result'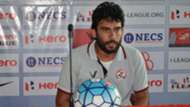 After a late goal from Laldanmawia gave Aizawl FC a typical smash and grab win against DSK Shivajians which propelled them up to the summit of the I-League table at the expense of East Bengal, the manager of the losing team felt that the result was cruel given his team's performance. 
"Aizawl, they offered nothing tonight. Let's be honest, we were the better team. They have not tried to play football. We played our last game only 48 hours back. So, I'm proud of my players and we have outplayed the potential league champions of this season," Dave Rogers lamented. 
"But again, that's what they've been good at. They contain teams and nick in goals and they have done that to us twice now. It is tough to take. We are devastated but we have a game on Saturday and we need to win it. Football can be wonderful and at the same time cruel," he added further. 
Late Laldanmawia strike sends Aizawl top
Further, the Englishman acknowledged his team's failure to convert their chances. "I was frustrated. We had more chances but they scored the goal. I have said it all along - If you don't score goals, you don't win games. Unfortunately, we can't score goals at the minute. We are creating so many chances but we haven't got the killer instinct. I'm not going to blame individuals here but there comes a time when somebody has to step up and score goals," he explained. 
Dave Rogers went on to give credit to Aizawl FC for battling their way to a win and expressed hope that Khalid Jamil's side will win the I-League title. "I hope they go on and win the championship now. After being relegated last season, they have done well to become well-organised. I think Khalid (Jamil) deserves it, " he said graciously. 
Aizawl FC manager Khalid Jamil was also of the opinion that DSK Shivajians were the better side just like in the reverse tie in Aizawl. "They played better just like the last time we played them. All the credit is for the boys. In the half-time, there was a bit of belief in the team as they were aware of East Bengal's score. They wanted to do something," he revealed. 
East Bengal falter against Churchill Brothers
The 39-year-old coach went on to state that they were not really thinking of winning the I-league yet, despite the sensational turnaround from last season that sees The Reds from Mizoram enjoying a two-point lead at the top of the table. 
"I'm not thinking about wining the league. We're only thinking about the next game. Still, there is a long way to go. We are playing Minerva next, it will be a tough game. The players are working very hard and have a good rapport with each other. We are getting support everywhere and they want to do something for the fans," he concluded.