I-League
I-League 2017: Aizawl FC vs Mohun Bagan: Four key battles to look out for
India's premier footballing league has been dominated by teams from the traditionally strong footballing regions of India, ie, Kolkata and Goa, since the turn of this century. Goan-based clubs, including Churchill Brothers, Dempo and Salgaocar, have accounted for eight league titles since 2000 while the Kolkata bigwigs - East Bengal and Mohun Bagan - claimed five. 
The only aberration to this trend till 2013 was Mumbai-based Mahindra United in the 2005-06 season (then National Football League). It was Bengaluru who shifted the power centre of Indian football with two league title in three years. Now, in 2017, we could see another new champion club in India as Mizoram's Aizawl FC battles it out with Mohun Bagan for the honours. 
With both teams locked on 33 points each at the top of the table, the penultimate round clash between the two challengers in Aizawl this Saturday assumes huge significance. The title could very well be decided on Saturday. Mohun Bagan only need a win but Aizawl will need a win by at least a two-goal margin to clinch the title this week. 
EXPLAINED: I-League run-in between Aizawl and Mohun Bagan
No doubt, M/s Sanjoy Sen and Khalid Jamil will be working those brain cells hard to think up a way to neutralise the other. Both teams have several key players who have played instrumental roles in their teams' impressive campaigns so far. While Mahmoud Al Amna and Alfred Jaryan have been brilliant for Aizawl, the likes of Sony Norde and Katsumi Yusa have been the bright sparks for Mohun Bagan. 
As such, let's take a look at four key battles within the war that will unfold on Saturday at the Rajiv Gandhi stadium in Aizawl that will shape the destination of the I-League trophy. 
---
Sony Norde vs Ashutosh Mehta - The Haitian to be double-teamed?
---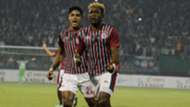 It does not take a genius to know that Mohun Bagan's biggest threat is their Haitian winger Sony Norde. The 27-year-old is a tricky customer and has the pace to burn and is more often than not the main outlet for Bagan during their transitions from defence to attack. Keeping him muzzled is a thankless task which should fall on the shoulders of Ashutosh Mehta on Saturday. The former Mumbai FC player has made the right back spot his own of late and Jamil will look to him to keep Norde on a tight leash. 
To allow Norde a free run at your defence in such a tight game is an invitation for disaster and it is more than possible that Jamil, whose teams are well-organised, will ask his right winger also to double team on Norde along with Mehta. For Bagan, it will be crucial that Norde shakes off the attention he's likely to get on Saturday. Though the Haitian has scored just three goals, plenty of Bagan goals have stemmed from Norde's trickery and magic down the left wing. The message is loud and clear - silence Norde and silence Bagan!
This battle could well shape the outcome of the game on its own. 
---
Al Amna & Jaryan vs Sehnaj & Katsumi - The midfield battle
---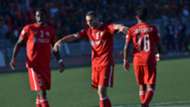 It is often said that winning the midfield battle is half the game won. For, the team which controls the midfield will set the tempo of the game and can control the course of the game easily. That theory will be put to test on Saturday with two crafty midfielders coming up against each other.
For Aizawl, the combination of Alfred Jaryan and Mahmoud Al Amna has been a masterstroke from Khalid Jamil. Jaryan, a striker converted to a midfielder, holds the play well and uses his physique to break up the play and intelligently launches Aizawl's attacks. Al Amna, on the other hand, has been their creative outlet. The Syrian is crafty, creative and has an eye for a goal, and has dovetailed with Jaryan in midfield. 
For Mohun Bagan, Yusa Katsumi and Sehnaj Singh operating in the middle. Sehnaj is sturdy enough and the versatile Katsumi is adept in spraying passes around and acting as the link between the defence and attack. He can also play on the wings but the Japanese's services might be valuable for Sen against Jaryan and Al Amna. 
In a crucial match that is expected to ebb and flow, control over midfield is crucial and the victors in this battle might just hand their team a big advantage. 
---
Kamo Bayi vs Anas Edathodika - A battle between equals? 
---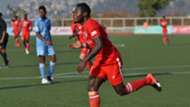 Kamo Stephane Bayi has been kind of an unsung hero in Aizawl's march to the top of the table this season. With six goals in his kitty, the Ivorian has been as important to the Reds as Alfred Jaryan or Mahmoud Al Amna or even their miserly defence has been. He has toiled hard up front, being Jamil's first line of defence when the opposition builds out from the back and has also showcased predatory instincts to score vital goals. 
But Sanjoy Sen will be looking towards his star man in defence, Anas Edathodika, to keep Bayi at bay on Saturday. Following on from a solid Indian Super League (ISL) season with Delhi Dynamos, Anas has been impressive this season for the Mariners and saw his efforts recognised by a maiden call-up to the Indian national team earlier this year. The 'no-nonsense' defender from Kerala will have his match in Bayi on Saturday, paving the ground for an engrossing battle. 
---
Darryl Duffy vs Zohmingliana Ralte - Another chance for Zotea!
---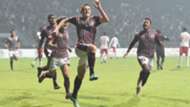 Aizawl's defence has been praised far and wide this season - having conceded just  13 goals in 16 games - a record that is bettered only by Mohun Bagan who have shipped just 10. Zohmingliana Ralte has been ever present in the Aizawl defence this season and will be tasked with keeping Bagan striker Darryl Duffy under check. The Scotsman was in superb form when these two teams met in Kolkata in February. Duffy bagged a brace with the game finishing 3-2 in favour of Sanjoy Sen's side. 
Saturday is another chance for Zohmingliana to make amends for that night and possibly negate Bagan's attacking threat. But he will need to be on his toes against Duffy, who despite his lanky frame, has nimble footwork and is quick. Without a doubt, Duffy versus Ralte will be another tussle worth keeping an eye on.