Premier League
'I don't appreciate old team-mates telling lies' - Zaha responds to Hangeland criticism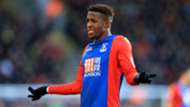 Wilfried Zaha has hit back at former Crystal Palace team-mate Brede Hangeland for questioning his motivation and work ethic.
The ex-Norway international was asked to select a 'Lazy XI' while appearing on the Heia Fotball podcast.
Dimitar Berbatov, Jimmy Bullard and Emmanuel Adebayor made the cut, with the latter said to have spent time sitting in the gym with "a cup of coffee and a muffin" when he should have been working out.
'Adebayor sat in gym eating muffins'
Mousa Dembele was also accused of "never lifting weights", while Zaha faced criticism of his commitment to bettering himself.
Hangeland said of the Ivory Coast winger: "Amazing physique, athletic, huge potential.
"Some Mondays, he'd come over to me and say: 'I'm starting my programme now!' He'd do five push-ups, sigh, then leave. He would have been incredible if he was serious."
Zaha admits to having been left disappointed by the comments of a former colleague and has sought to clear his name when it comes to the effort he puts in away from the field.
I don't appreciate old team mates telling lies just to stay relevant! It's sad

— Wilfried Zaha (@wilfriedzaha) January 27, 2017
We all have different bodies so because I'm not constantly in the gym or doing the same as someone else doesn't mean I don't work hard ..

— Wilfried Zaha (@wilfriedzaha) January 27, 2017
The 24-year-old remains one of the Premier League's most highly-rated wingers, having re-established himself at Palace following a difficult spell at Manchester United.
He also graced the 2017 Africa Cup of Nations with his country and will be looking to make a telling contribution to Palace's cause when he returns to the fold over the coming weeks.