Dani Alves
'I didn't realise Manchester had two teams' - Man City target Alves may live to regret comments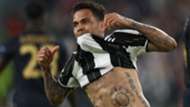 Dani Alves has emerged as a top target for Manchester City, but he has admitted in the past to being unaware of their existence until 2009.
Ahead of a Champions League clash with the Blues in 2014 while on the books at Barcelona, the Brazilian was quizzed on his upcoming opponents.
He conceded that he thought United were the only side in Manchester until Sheikh Mansour arrived at the Etihad Stadium and made the funds available to turn City into a heavyweight outfit.
Dani Alves: Don't spread s**t on me
Alves is now closing in on a move to the Premier League, as revealed by Goal, with Pep Guardiola looking for a reunion in England with a player he enjoyed considerable success with at Camp Nou.
The 34-year-old may, however, look a little sheepish if he is to make a switch, having previously said: "I didn't realise until about five years ago that Manchester had two teams.
"Of course Manchester United have been one of the most famous and successful clubs in Europe for many years - but I thought they were the only one.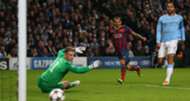 "When Manchester City got new owners and started buying some of the best players in Europe everybody knew who they were - but until then I must be honest I didn't know about them.
"I think this is the reality of modern football. You don't need 10 or 20 years to establish yourself - if you have rich owners you can do it in two or three years. It doesn't matter if I or anybody else agree with it - it is just the reality of today."
Alves: I'm like Conor McGregor
Since being acquired by Sheikh Mansour, City have seen two Premier League title triumphs complemented by two League Cup successes and an FA Cup win.
Alves would hope to help them add to that haul if he to moves to England, having grown accustomed to collecting silverware over the course of his distinguished career.
A Serie A title success with Juventus in 2016-17 saw him pick up a 33rd trophy, with the Samba star among the most decorated players of all time.