Opinion
How far will Senegal get at the World Cup?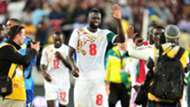 Goal readers are confident that Senegal will escape from the group stage at next summer's World Cup.
In light of the Teranga Lions' qualification for the global showpiece in Russia, there's general optimism about the West Africans' chances in their second World Cup showing.
Indeed, the presence of Sadio Mane—the spearhead of Aliou Cisse's impressive squad—has also raised hope that they can emulate Senegal's first—and to date only—World Cup showing.
Back in 2002, the Lions stunned former colonial masters France in the tournament opener before reaching the quarter-finals after draws with Uruguay and Denmark, and a victory over Sweden in the Round of 16.
In a recent Goal poll, 19 percent of those who responded have tipped the Lions to emulate that feat, and to again make the final eight.
Even more optimistically, a further 21 percent are confident that Cisse's side will beat their previous best and get beyond the quarters…with 10 percent even tipping Senegal to become Africa's first-ever World Cup winner next summer.
Intriguingly, only 22 percent of those who responded are expecting Senegal to fall in the group stage, even though Mane and co. head into Friday's draw in Pot 4—along with the other lowest-ranked teams in the competition.
Indeed, that optimism may well dissipate if the Lions get drawn into a Group of Death in Friday's ceremony at the Kremlin.
By far the most likely outcome for Senegal in Russia—at least according to Goal readers—is a second-round exit.
39 percent of those who replied to our poll believe that while the Lions will escape from the group, their campaign will end in the knockout stages.
While readers appear confident that Senegal will escape from the first round at this early stage, again, that forecast may well change if the Lions are handed the short straw on Friday!