CONCACAF Champions League
CCL foes Pachuca and FC Dallas thrive on youthful philosophies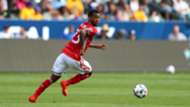 FRISCO, Texas — It's easy to draw comparisons between FC Dallas and Pachuca.
When the teams meet in Wednesday's first leg of the CONCACAF Champions League semifinal, they may feel like they're looking in a mirror: two teams with a strong defensive base but playing an exciting brand of soccer that results in plenty of goals.
You can go deeper. Both teams are missing their best attacking player because of injury: Mauro Diaz of FC Dallas is recovering from an Achillies injury suffered toward the end of last year while Pachuca winger Hirving Lozano has an ankle problem keeping him out.
Inside Opta: Atlanta playing fast and furious
The real connection, though, is in how the teams have built, then leveraged, youth systems that are churning out quality players. FCD vs. Pachuca pits the team with the best academy in MLS against the team with the best 'fuerzas basicas' in Liga MX. It's a philosophy shared by the clubs in part because they can't (or won't) spend bags of money to bring in players.
"We believe it's the way to compete," Pachuca coach Diego Alonso said. "We're not a team that's among the strongest teams in Mexico economically speaking. There are teams with a lot more spending power, and we've bet on homegrown players, because first there is ability and talent in Mexico to be able to compete. In fact, we were able to become champions.
FC Dallas technical director Fernando Clavijo has long looked at Pachuca's project and in it seen a blueprint for building a franchise without the resources of other teams.
"I think they have done an incredible job throughout the years in creating and developing the players and bringing them along to the first team, selling them," Clavijo told Goal. "There's a model to follow without a doubt. We are on our way. We still have a long way to go, but when you look at the parallels to what they have done, it's what we're trying to do right now, so hopefully we can achieve those goals and create as many players as Pachuca has done."
While Clavijo said Pachuca is farther along in its project, following this model for more than 20 years after President Jesus Martinez and Vice President Andres Fasi took over the club, FCD also has seen results. It hasn't brought a league title yet like it has for Pachuca, but FCD lifted its first trophy in 19 years with its U.S. Open Cup win in 2016 and followed it up by lifting the Supporters' Shield.
Though the team wasn't able to win MLS Cup, its commitment to signing young homegrown players continues. The team signed teenagers Paxton Pomykal, Jesus Ferreira, Reggie Cannon and Bryan Reynolds in the past year, bringing the total of homegrown players on the roster to nine.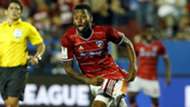 With players like 21-year-old Kellyn Acosta becoming a regular at FCD and Pachuca long having started the 21-year-old Lozano and 21-year-old Erick Gutierrez in the midfield, both clubs seem to thumb their nose at conventional wisdom in the region that older is better. Each club still relies on veterans (Pachuca's 44-year-old goalkeeper Oscar Perez stands as a comical exception to the "rule" that Pachuca only fields youngsters), but both throw young players into the fire, hoping to come out with a more refined product.
"I think that you always feel that you're going to get better with experience. And to a point, it's true," Clavijo said. "But then again, when you try to both develop players and win games and have an economic value on the players that you train, you need to play them. You need to play them if you value them and want to give them experience that you will need. You need to play them. We have done that. Pachuca is doing that all the time."
It's not just flipping players, though. Grooming young, local players results in local fans feeling more attached to their teams and at least in the case of FCD and Pachuca, it has led to fans enjoying much more exciting styles than they saw before the teams started their projects.
Tigres take 2-0 advantage in first leg
"It's good that in Mexico as well as in the United States we're seeing teams play young players, giving them an opportunity," said Raul Lopez, a 24-year-old fullback Tuzos acquired from Chivas, where he debuted just after turning 20. "It's going to show up in the game, because, like us, they have been playing really well lately and it creates more dynamic games."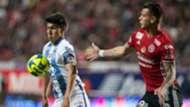 "It means the world for me to be able to get minutes. Us young guys, we do need games and we're still able to play with the academy, so when we can't get minutes with the first team we can go and help the young guys out as well," Pomykal said. "All of us young guys, we strive to get minutes, and for me to get the start is good for Jesus, for Reggie, for Bryan, for all of us young homegrowns. Not just for me, for everybody."
For FC Dallas coach Oscar Pareja, giving young players minutes is practical for several reasons. For one he believes that the players are ready to make contributions, which are needed with his team chasing after multiple trophies. It's also personal, though, as Pareja remembers snatching his own opportunity when starting his career in his native Colombia.
"I think that I'm often remembering that someone put their confidence in me when I was 16 years old," Pareja told Goal. "They let me play, running the risk that things might not go well. If it hadn't been for this confidence the coach showed me, I wouldn't have played. I think this is something I have inside of me."
It's now something that's inside of both clubs as well.
The series may be decided by a player like FCD forward Cristian Colman or Pachuca midfielder Jonathan Urretaviscaya, players signed from other clubs to fill holes like any other club does. But it's no accident these two teams with a shared philosophy have made it to this stage in the tournament. They've made waves in their own countries with their philosophies. Now it's time to see what happens when they collide.