World Cup
Hollywood vs World Cup in summer battle with post-Avengers: Infinity War blockbusters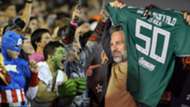 This summer's World Cup is already having a major impact outside of football with this summer's blockbusters scrambling to avoid clashing with Russia 2018.
Avengers: Infinity War is breaking almost every record possible across the globe, lining Marvel Studios' pockets with almost $1 billion within a week of release.
But Marvel Studios' follow-up, Ant-Man and the Wasp, has been pushed back in the UK due to the Disney-owned company not wanting to compete with the World Cup finals.
Two superheroes who were absent from the latest instalment of the Marvel Cinematic Universe were Ant-Man and the Wasp. A trailer came out for their new standalone movie this week and eagle-eyed UK moviegoers noticed that the release date has been changed.
The movie was due to be released on July 6 but now that date has been moved to August 3 because Marvel believe that people won't be flocking to the cinema during World Cup season.
Ant-Man and the Wasp isn't the only flick set to have been unofficially affected by this summer's tournament. The Incredibles 2 and Jurassic World: Fallen Kingdom have also changed their release schedules so that they don't coincide with the World Cup finals.
Every four years, international football matches dominate June and July with fans glued to their TV screens rather than the big screen for a change.
The World Cup is guaranteed to be the most-viewed television event of the summer in the UK, with over 20 million people tuning in to the BBC's coverage of the 2014 final between Germany and Argentina.
Should England reach the latter stages, TV viewing figures will certainly spike, although Gareth Southgate's squad are not among the favourites and head into the finals without the hype of their so-called 'Golden Generation' in the early 2000s.
Looking at trends over the past few years it shows that films are affected by the World Cup in the UK. In 2014, Transformers: Age of Extinction came out during World Cup season and it was the biggest film of the year grossing over $1bn dollars worldwide.
However, in the UK it was only the 13th-highest grossing movie, with far more people devoting time to watching World Cup matches at their local pub rather than heading to the movies.
Any hopes that United States could improve on their last 16 showing at Brazil 2014 were scuppered when they failed to qualify out the CONCACAF region, which is likely to somewhat diminish mainstream interest in the tournament across the Atlantic.