PSL
History will not matter against Kaizer Chiefs, says Chippa United's Vladislav Heric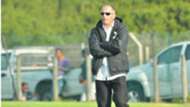 Having beaten Kaizer Chiefs 1-0 in the first round of the Premier Soccer League (PSL) comes as a huge motivator for Chippa United, and coach Vladislav Heric says that they expect a tough encounter this weekend.
The Chilli Boys were under the guidance of Teboho Moloi who has since parted ways with the club when they beat Amakhosi in Port Elizabeth, but the new coach hopes for a good result on Saturday afternoon.
However, as they target their second win over the Soweto giants, Heric said that while he takes note of history in football, he will not be banking on the previous result.
Fresh from a 2-0 loss at the hands of Mamelodi Sundowns on Wednesday, the Eastern Cape-based outfit will want to bounce back to winning ways at the FNB Stadium.
Chippa are out to rescue their PSL status as they now occupy 13th spot on the league table with 30 points from 25 league games and a win will take them closer to realising their top eight ambitions come the end of the campaign.
"I like history. History you can frame it and put it on the wall, but history does not determine the next game. It all depends on your readiness and how you approach the game," Heric said to the PE Herald.
"Sometimes history can even count against you, thinking, because we beat them last time, we will beat them again," said the Serbian manager..
"We have to approach our players and try to have them ready and hungrier to win and be more motivated to get the points. Otherwise we are not going to get anything out of the game," he said.
"You could see against Sundowns the players did follow the game plan and we did play good football especially in the last 10 minutes we did not give up. After 2-0 we tried to at least score one goal," he continued.
"I like history. History you can frame and put on the wall, but history doesn't determine next game," explained the former Ajax Cape Town coach.
"It's about how ready and prepared you are for the game. Sometimes history can damage for next game," he noted.
"You think you beat them before and you will beat them again, so we are trying to work with the players to make them hungry and motivated to get the points," said the former Royal Eagles mentor.
"We fought and we tried to get something out of this game. So with that kind of character, maybe that is the starting point for our game (on Saturday)," concluded the coach.