Bundesliga
'He's our son of a bitch!' - Mario Gomez to continue with Wolfsburg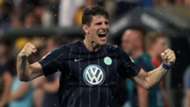 Wolfsburg have announced Mario Gomez will continue to play for the club after speculation that he would seek employment elsewhere over the summer.
Hertha urge Ibrahimovic to sign
With Die Wolfe having finished the Bundesliga in 17th place and relegation looming, the Germany striker was expected to move on to continue playing at the highest level ahead of the 2018 World Cup.
In the wake of surviving their relegation play-off against Eintracht Braunschweig, however, Gomez has vowed to remain with Andries Jonker's side into the new campaign.
During said play-off clash, Braunschweig fans had been chanting "Mario Gomez is a son of a bitch", prompting Wolfsburg to announce the 31-year-old's decision to stay in comical style.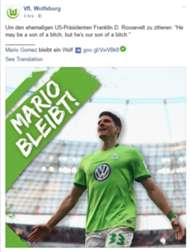 Relaying the news through their official Facebook page, the club said: "To quote former US president Franklin D. Roosevelt: 'He may be a son of a bitch, but he's our son of a bitch.'"
The club's joke is sure not to have caused Gomez any offence either, with the striker and his team-mates having already thrown the insult back in Braunschweig fans' face by singing the chants themselves after the play-off win.