Premier League
Here's your chance to watch Manchester United LIVE at Old Trafford!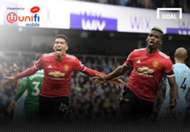 Always dreamt of watching your favourite Manchester United on the hallowed turf at Old Trafford? 
Here's your chance to do so. All you need to do to make your dream come alive is take part in unifi Mobile's BEBAS2NJOY BOLA Contest which runs until May 1, 2018. 
Win an all-expense paid trip to Old Trafford, UK, for Manchester United's game against Watford. What's more? It includes VIP hospitality, return flight tickets from Kuala Lumpur to Manchester, hotel accommodation, travel insurance, and return airport transfer from Manchester Airport to the hotel.
So how do you take part? The contest is open to any unifi Mobile #BEBAS customer. 
To participate, existing unifi Mobile customers needs to purchase a BEBAS WEEKLY Pass through mobile@unifi app within the contest period. 
For non-unifi mobile customers who want to participate, all they need to do is to download the mobile@unifi app and apply for a SIM. They can then buy a BEBAS WEEKLY pass within the contest period using the mobile@unifi app. 
Four potential winners will be chosen from the list of customers who purchased #BEBAS WEEKLY Pass during the campaign period, where the four (4) winners will be selected randomly. 
The potential winners then need to answer a question correctly during a phone call before he/she is announced as a winner. 
NOTE: The BEBAS Weekly Pass offers unlimited data, calls and SMS for a week and allows any unifi Mobile subscriber unrestricted access to data calls and SMS.  
For more information about the contest, do visit https://bit.ly/2qZ9OxO
The mobile@unifi app is available for download on Playstore and App store.