Concacaf Champions League
Herediano manager Medford wary of strong Atlanta United, even after Tata departure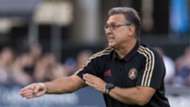 Hernan Medford is expecting an enormous challenge from Atlanta United in the round of 16 of the Concacaf Champions League next year, even with Tata Martino leaving the club.
Medford recently retook the reins of Herediano, which remains alive in the fight for this year's Costa Rican championship. On Monday, he saw "The Team" drawn against MLS Cup finalist Atlanta United for its first-round matchup in the region's club championship. 
Martino is set to leave the club after this weekend's MLS championship match, which has some wondering if the momentum in Atlanta can be sustained. Despite Martino's sterling reputation, though, Medford said he puts more stock into which players are on which team.
"I was part of 2005 with Saprissa when we were champion and got third place in the world, which is something historic for a Concacaf team. I want to repeat that feat with Herediano," he said. "We start with a difficult team in Atlanta who has done things really well and is still evolving. The atmosphere there is really good. 
"They won't have the same coach, Tata, but I've always said between the manager and the football player makes up 80 percent. So, I think Atlanta is going to have almost their same team and we're expecting a really complicated side."
Herediano is becoming accustomed to difficult CCL draws. The past three years have seen the club play Liga MX giant Tigres, either in group play or last year in the round of 16 after Concacaf unveiled a new format that consisted only of a knockout round. Before the draw, the former striker said he was hoping for anyone but the now-familiar rival, which eliminated Herediano in each of the last three tournaments.
"It already was the third time! I'm not trying to say that Atlanta isn't going to be difficult but we wanted something different now," he said. It's going to be complicated, and we have to prepare for the game really well, get motivated to win because every game is a final and they have a team that can win."
While this will be Herediano's ninth time taking part in international competition, Atlanta will be playing an international match for the first time. The Five Stripes began play in 2017 but have become one of MLS's most formidable sides right out of the gate. Medford pointed to Atlanta players' experience in the CCL with other teams or some of the club's South American stars' participation in the Copa Libertadores as a reason why that lack of international experience might not matter.
"Maybe as a team they haven't done it but when you look at the individual players, a lot of them have played this type of tournament. So, I don't think it makes a difference," he said. "I think it'll be a level match and we'll see who is better."
Costa Rican teams have found it difficult to be better than their North American counterparts, especially in recent years with teams from those leagues extensively scouting Costa Rica and bringing in some of the top prospects from Heredino, Saprissa, Alajuelense and other big clubs there. Even so, the 50-year-old believes he can cut the difference with the right mentality.
"We can't deny that teams from Mexico, in MLS, can bring in great players from abroad," Medford said. "The economic aspect really comes into play, which is too bad, but we have to believe that on the field everyone is equal."