Friendlies
'He should be kept at arm's length' – Adepoju reveals how to stop 'cunning' Lewandowski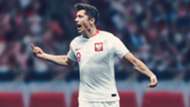 Mutiu Adepoju has counselled the Nigeria national team on how to curtail Robert Lewandowski's excesses during Friday's international friendly.
The Super Eagles face Poland for the first time ever at the Municipal Stadium, Wroclaw as they continue their build-up for the 2018 Fifa World Cup.
And the 29-year-old who is the White and Red's all-time top scorer with 51 goals has been tipped to wreak havoc against the three-time African champions.
However, the LaLiga Nigeria chief has advised on how the Polish skipper who boasts of 23 goals so far this season can be stopped.
"Each and every one of the Super Eagles should work as a team, try as much as possible to monitor his movement and key players in the team who give him the passes," Adepoju told Goal.
"He [Lewandowski] is going to be cunning and he has a big body that can shield our defenders. He should be kept at arm's length and [our players] should watch his movement.
"They should not lose any view of him at any moment because he is cunny and he knows how to move into space to get what he wants.
"I believe they have other big stars in the team and [it will not be good enough] if there is too much attention on Lewandowski."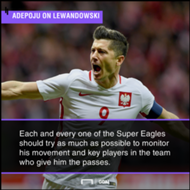 Gernot Rohr's men must negotiate their way past Argentina, Iceland and Croatia in Group D to reach the knockout phase of Russia 2018, and 'The Headmaster' discloses the kind of effect facing the team ranked sixth in the world will have on the team's preparations.
"It's going to have a very great impact because Poland have a great team and players playing in the best teams and leagues," he continued.
"They are very competitive which will make us assess the strength of our team. We have a practically young team and they need this match to gain experience, more strength and personality before the World Cup."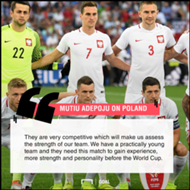 When asked if the result at the Municipal Stadium should be used as a yardstick to judge Nigeria's readiness for Russia, the former Real Madrid star added: "We should not because it is a preparatory match and the Polish too know that Nigeria are in good strength and they are preparing for the World Cup too.
"So, I believe we should not judge them based on the outcome [either we win, lose or draw] instead, they should look at the positives and try to correct all the negatives."
The Super Eagles face Serbia in their next warm-up game billed for London on March 27, before meeting DR Congo, England and the Czech Republic in other pre-World Cup games.