Barcelona v Chelsea
'Hazard has every right to be frustrated' - Chelsea tactics questioned by Gullit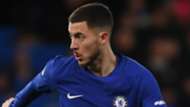 Eden Hazard's frustration at at Chelsea's defensive approach in recent weeks is understandable, says former Blues boss Ruud Gullit.
Antonio Conte has had mixed results with his tactical decisions against high-profile opposition, with Chelsea holding Barcelona to a 1-1 draw in February, before losing 1-0 to Manchester City after a lacklustre display at the start of this month.
Hazard himself has admitted that he did not feel comfortable operating in the formation employed by Conte, with his creative instincts and ability to roam being restricted by his side's focus on the defensive side of the game.
Gullit admits to being surprised at how often Conte has turned to that system, with it clear that Chelsea are limiting the contribution of a key playmaking talent.
The Dutchman, who represented the Blues as a player before taking the managerial reins, told Goal on Hazard: "He wants to attack. He doesn't want to run around and not touch the ball and to have players around him who can play as well. So for every player that's frustrating."
Chelsea have, however, been forced into tweaking their approach after struggling for consistency.
Alvaro Morata is among those to have endured a dip of form of late, going 12 games without a goal to force a shuffling of Conte's pack.
Gullit said of a misfiring £70 million frontman: "He has been unlucky because he's had the chances. He didn't convert them and that of course for a striker is terrible. He's a very nice kid, good player and hopefully he will find his groove."
The Blues need Morata and Co to start delivering, with Gullit conceding that he expected more from the Premier League title holders as a collective.
"You're the current champion. People are expecting a little bit more, especially attacking," he said.
"The expectation of a champion is always different than somebody just ending fourth. And that's the reason you get criticised."
Ruud Gullit expects Chelsea to continue their defensive approach against Barcelona, even if Eden Hazard is unhappy with it! pic.twitter.com/Jmt4A4aKwT

— Goal (@goal) March 13, 2018
Gullit added on the Blues' 2017-18 campaign: "A little bit of a rollercoaster. It's also to do with the rumours all the time about Conte - is he leaving, is he not leaving? I don't think that helps the team as well."
The speculation surrounding Conte's future may have unsettled some at Stamford Bridge, even if the man himself has maintained throughout that he intends to honour a contract due to run until 2019.
"It's Conte's second year at Chelsea and that is always difficult for anyone. Even if you win," said Gullit.
"I hope they can change that. There are a lot of upset people, especially when you here Conte is going to leave. The players who are not playing all the time, they see a chance for a new coach and you get a little bit of a strange environment in the locker room. And you don't want that."
Conte will need everybody to be pulling in the same direction when Chelsea next take to the field, with the second leg of a Champions League last-16 encounter set to be taken in on Wednesday.
That contest is currently locked at 1-1 and the Blues will head to Camp Nou aware that they need to score at least once to stand any chance of reaching the quarter-finals.