Renato Sanches
'Has he completed a pass yet?' Fans slam Renato Sanches after Swansea debut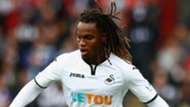 Renato Sanches' debut for Swansea was certainly memorable. Unfortunately for the Portugal international, that doesn't mean it was good.
Making his first appearance for the Swans following a season-long loan move from Bayern Munich, there were hopes of the talented youngster immediately delivering on some of his promise for the Welsh side as they faced Newcastle on Sunday.
Instead, the 20-year-old midfielder struggled in his debut, with perhaps his most noteworthy moment coming when he kicked a member of the opposition in the groin during  the 1-0 loss for the Swans .
And Twitter was not kind to Sanches as his performance was roundly criticised and often mocked by fans.
Has Renato Sanches completed a pass yet? pic.twitter.com/ky1AAjN7Ra

— FUN88 (@fun88eng) September 10, 2017
#renatosanches pic.twitter.com/ZDW9flW3st

— Simon Thomas (@SimonThomasSky) September 10, 2017
In 28 minutes, Renato Sanches has given the ball away 14 times.

Efficient.   pic.twitter.com/uRpVnhzyHf

— bet365 (@bet365) September 10, 2017
Renato Sanchez making a big impact in the premier league pic.twitter.com/ZATFy7CflB

— Brady Newstead (@bradynewstead) September 10, 2017
Renato Sanches' Swansea debut... #SWANEW pic.twitter.com/vuRvS5lNAw

— NOW TV Sport (@NOWTVSport) September 10, 2017
Renato Sanches' debut.. pic.twitter.com/xoQYQdXoJv

— Ellis - AwayDays (@ellis_platten) September 10, 2017
So many people on the TL talking about Renato Sanches. People finally opening their eyes and realizing he's an awful footballer

— Juan (@socraticjuan) September 10, 2017
That Renato Sanches debut was like your mate offering to loan you his supercar for a year, then this showing up on your drive. #SWANEW pic.twitter.com/JwsaMcVJPF

— Adam Tomas (@adzthomas) September 10, 2017
Renato Sanches has lost possession 14 times in 28 minutes. Welcome to the Premier League.

— Mootaz Chehade (@MHChehade) September 10, 2017
Wondered why more PL clubs weren't in for Renato Sanches.

It's a little clearer now. #SWANEW

— Chris Wise (@chriswisey) September 10, 2017
You never get the second chance to make a first impression, but Sanches will hope to turn some of these doubters into believers next week when Swansea travel to Wembley to face Tottenham on Saturday.
Swansea Double Chance 14/5 v Spurs