José Mourinho
'Guardiola would win the title at Man Utd' - Mourinho's moaning picked apart by Carragher
Jose Mourinho's argument regarding spending at Manchester United is flawed because Pep Guardiola would win the title with his squad, says Jamie Carragher.
The Portuguese coach recently bemoaned the fact that his managerial rival at the Etihad Stadium has an almost limitless transfer fund at his disposal, with Manchester City buying "full-backs for the price of strikers".
Mourinho has, however, spent big himself since arriving at Old Trafford and has received little sympathy on the back of his transfer gripe.
Former Liverpool defender Carragher his now added his voice to that debate, with it suggested that a man accustomed to grinding out results by whatever means necessary has been overtaken in the coaching game by a Catalan tactician proven in the art of squad building and development.
Carragher wrote in a column for The Telegraph: "There is a flaw in Jose Mourinho's argument that the difference between Manchester United and Manchester City is money.
"If Pep Guardiola was in charge of the United squad I believe they would win the title. 
"Rewind to the start of this season and assess the head-to-head qualities of the United and City squads. Player-for-player, which would you argue was superior?
"Was Ederson considered better than David De Gea? Were City's centre-backs Nicolas Otamendi and John Stones preferable to Eric Bailly and Phil Jones? Did United fans want Fernandinho or Nemanja Matic?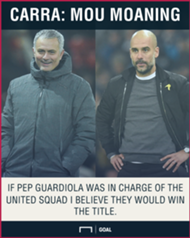 "United broke the world transfer record to sign Paul Pogba, and then made Romelu Lukaku the most expensive Premier League player of last summer. Which English clubs made bigger statements of intent? 
"How many United or England fans would have swapped Marcus Rashford for Raheem Sterling a year ago? And when Anthony Martial first arrived from Monaco, was his reputation greater than that of Leroy Sane when he joined City?
"Although he was signed before Mourinho's appointment, Luke Shaw was a £30 million full-back – more expensive than City striker Gabriel Jesus. The United manager's complaints about the value of the squads do not add up.
"We can go on throughout the respective lists. Where Mourinho sees players unable to execute his tactical blueprint, I believe Guardiola would have taken a different approach with a squad Mourinho believes needs reinforcing.
"Even now, it is the United squad that has the most expensive 'superstars' – or certainly those with the greater reputation when they joined the club. Henrikh Mkhitaryan, Pogba and Lukaku delivered elsewhere prior to moving to Old Trafford. Have they improved under Mourinho? That is the troubling question for the United manager. It is starting to sound like he has no patience or will to make what he has better.
"City are ahead this season because Guardiola has developed players rather than expected ready-made talent to instantly deliver.
"Mourinho has increasingly come to rely on more experienced, established performers. If you want to evolve a club or a team, you don't call Mourinho. He is a coach who navigates his way to silverware with teams that have the raw materials – something he has already achieved at United with two trophies in his first season. His reputation as a world-class coach is based on his ability to find a way to win. 
"If Mourinho was coaching the Manchester City side they would not be playing the style of football we are seeing today."