Transfers
Griffin Saenda Junior: Peter Banda's trial with Orlando Pirates was successful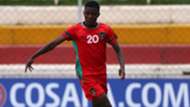 Media reports in Malawi suggest that Orlando Pirates have been impressed by forward Peter Banda, who was on trial with the Soweto giants.
The youngster initially attended trials with the Buccaneers five months ago as the Pirates' junior side was preparing for a trip to Brazil, but Banda was unable to travel due to visa issues.
"As a coach I was really encouraged with the way he was playing, but I can confirm that the Pirates officials were the ones who expressed their satisfaction," said Griffin Young Stars coach Griffin Saenda Junior to Nyasa Times.
According to the report, Saenda Junior travelled with Banda to Johannesburg, and he confirmed that the Soweto giants were happy with the player, who watched the recent PSL match between Pirates and Mamelodi Sundowns at the Loftus Versfeld Sadium a week ago.
"First, with his style of play and they have shown strong interest in the boy," he continued.
Moreover, the Malawian website also revealed that Banda also underwent trials at an unnamed Belgian side, an opportunity which was facilitated by Malawi senior national team coach Ronny Van Geneugden.
"I am confident that we'll have a good feedback from the team (Pirates) very soon because they have assured me that they will sit down and discuss some issues concerning contract offer. So, we'll just be eagerly waiting," concluded Saenda Junior.
On the other hand, Banda was also on trial at Bidvest Wits where he trained with his fellow Malawian in striker Frank Mhango, who is currently contracted to the Clever Boys.