Atlético Madrid
Griezmann: Ballon d'Or would make me an Atletico legend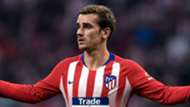 Antoine Griezmann is fixated on winning the Ballon d'Or because he believes it would fulfil his "dream" of ranking among Atletico Madrid's all-time greats.
The shortlist for this year's award was announced on Monday, with World Cup winner Griezmann one of 30 star-studded players to be vying for the coveted individual prize.
The 27-year-old has made no secret of his hope to improve on the third-place finish he managed in 2016 and believes he has done enough to break the decade-long duopoly of Cristiano Ronaldo and Lionel Messi.
Real Madrid midfielder Luka Modric is also among the favourites to land this year's accolade, with a remarkable year for both club and country already resulting in him being named UEFA Player of the Year and FIFA's Best Player of the year within the last two months.
Griezmann, who starred on the way to his side's Europa League glory last season and scored four goals during Les Bleus' World Cup winning campaign, views the France Football honour as a sure-fire way to cement his Atleti legacy.
"To win the Ballon d'Or at Atletico Madrid would allow me to go down in the club's history," Griezmann told Marca.
"Being a historic player for this club would be a dream and make me proud. That's what I want, what I'm looking for.
"I am a very ambitious man and I always want more."
Griezmann is bidding to become Atleti's first recipient of the Ballon d'Or in the award's 62-year history.
The influential forward is in his fifth season with Diego Simeone's side, having signed from Real Sociedad in 2014.
At one stage he looked set to leave Atletico in the summer, with La Liga rivals Barcelona said to be interested, but the Frenchman eventually opted to extend his stay at the Wanda Metropolitano.
Last season's Europa League winners currently sit third in La Liga, just one point behind leaders Sevilla. They are also well placed to qualify for the knockout stages of the Champions League, having won both of their first two matches in Group A.