Craig Gordon
Gordon urged to snub being number two at Chelsea by Rodgers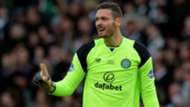 Celtic boss Brendan Rodgers has warned Craig Gordon that he would be "forfeiting two or three years" if he moved to Chelsea.
The Blues are in the market for a new goalkeeper and have identified the Scotland international as a top target.
One offer has been knocked back, with Celtic making it clear that they will not let their first-choice shot-stopper go for anything less than his full valuation.
The Scottish champions hope they will not get to that point, with there a desire on their part to keep Gordon in Glasgow.
Rodgers hopes the 34-year-old feels the same way, with there little point in him heading to Stamford Bridge at this stage of his career to be a back-up for Thibaut Courtois.
He said: "Chelsea is a fantastic club but it's also about what you want and for him now it has to be about playing games and for as long as he can.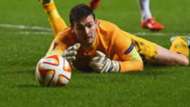 "It's difficult because it [Chelsea] is not really a playing role. You become a training keeper and you are virtually forfeiting two or three years of your life to be a training keeper.
"Before you know it, you are 37 and where do you go? Right now, Craig is in a great moment. It is absolutely flattering for him and also for the team.
"I think if you had asked six months ago would someone from Chelsea be looking for a keeper at Celtic it may not have been the case.
"It shows you that if you can impose a style of play on a team and develop it then it does a lot for you as a football player. So for Craig it's great because it shows he has been performing at a really good level. I have spoken to him at length."
Rodgers, who spent time on the coaching staff at Chelsea earlier in his career, added: "My experiences at Chelsea is that they have done this for a number of years.
"When I was there, Petr Cech was No.1. Carlo Cudicini was the loyal No.2 and didn't play so much.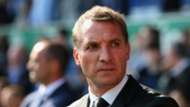 "The decade was built around Petr. The next decade was built around Courtois.
"The strategy, which is a clever one, is to bring in a loyal No.2 who is resigned to being that and not playing so much.
"After a while, you want to play. Asmir Begovic was No.1 at Stoke, goes to Chelsea as loyal a No.2 and does great.
"He didn't play so much bar a little run when Courtois was out but eventually you want to play.
"He's at an age where he wants to play and that's how it works.
"It was Ross Turnbull before that but this is the best place for Craig and he respects where he is."