A-League
Good turning a corner at City after European limbo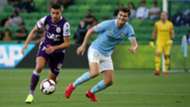 Curtis Good has made nine first-team appearances for Melbourne City so far this season - only four games fewer than he's managed over the past seven years.
After breaking out with Melbourne Heart in 2011, Good secured a fairytale move to Premier League side Newcastle United and while things started well, injuries saw his time in Europe end in frustration.
Though disappointed with how things ended, the Australian wouldn't take any of it back.
"Definitely no regrets there, the first couple years were unbelievable," Good told Goal.
"My debut for the first team was on the bench against Manchester City so the start was just brilliant - even the loan moves.
"All that love for the first half of my journey there and the second half put a dampener on the occasion, so that's the disappointing side of it."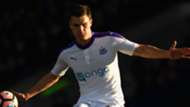 With his first-team chances limited, the 25-year-old defender ended up playing regularly for Newcastle's U23's side and the competition proved a solid if unpredictable stepping stone.
"It was a bit up and down with the teams you played," he said.
"Some sides would have three or four first-team players and the games would be massively competitive.
"It was good for me at the time to get my body right."
Ready for the step back up to first-team football, Good returned to where his professional career began, signing with City at the start of the season.
Slowly but surely he's established himself in Warren Joyce's starting side having overcome the injuries that had hamstrung his career over the past years. 
Good now savouring the chance to play regularly again and grateful to be turning a corner in what remains a promising career.  
"Brilliant to be honest, had a rough spell the past few years so to come back into an environment where I can get my body right and to play week in, week out has been fantastic," he said. 
"I never take it for granted so I just keep working hard to keep my body right and anything can happen really."