Premier League
Goal's writers make their Premier League predictions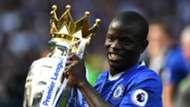 The waiting is over, and the 2017-18 Premier League campaign is finally upon us.
Though the transfer window remains open, with most if not all teams still looking to strengthen their squads, the season gets under way on Friday evening when Arsenal host Leicester City before the remaining nine fixtures take place over the weekend.
But who will be challenging for the title? Who will be the star names? And which teams and managers will be fighting to avoid the drop and the chop respectively?
Goal's team of correspondents and editors have had their say - but do you agree with their predictions? Have your say in the comments below!
---
PREMIER LEAGUE WINNERS
---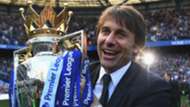 Only one of our experts is backing Chelsea to defend their crown, with the majority believing that the Premier League trophy will be heading to Manchester one way or another. But could Arsenal cause something of a shock and finally get their hands back on the big prize without Champions Leage football to distract them?
Peter Staunton (Chief Correspondent): Arsenal
Chris Wheatley (Arsenal Correspondent): Arsenal
Nizaar Kinsella (Chelsea Correspondent): Manchester United
Sam Lee (Manchester City Correspondent): Manchester City
Paul Macdonald (English Language Editor): Manchester City
Mark Buckingham (UK Editor): Manchester United
Carlo Garganese (Head of Features): Chelsea
---
CHAMPIONS LEAGUE QUALIFIERS
---
Despite finishing fourth last term, only a couple of our correspondents believe Liverpool will again secure a place at Europe's top table while some are also expecting Spurs's move to Wembley to have an adverse effect on their season. There are even some who believe Chelsea will go from champions to Europa League qualifiers in the space of 12 months!
Staunton: Manchester City, Chelsea & Tottenham
Wheatley: Manchester City, Manchester United & Liverpool
Kinsella: Manchester City, Chelsea & Liverpool
Lee: Chelsea, Manchester United & Tottenham
Macdonald: Manchester United, Tottenham & Arsenal
Buckingham: Manchester City, Chelsea & Arsenal
Garganese: Manchester City, Tottenham & Manchester United
---
RELEGATED TEAMS
---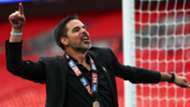 Things do not look good for the three promoted sides, with the majority of our experts believing at least one of Brighton, Newcastle and Huddersfield Town will experience an immediate return to the Championship. It could be a tough campaign for Burnley, Watford and Swansea, too, based on our predictions...
Staunton: Swansea, Newcastle & Crystal Palace
Wheatley: Burnley, Watford & Swansea
Kinsella: Brighton, Newcastle & Huddersfield Town
Lee: Brighton, Burnley & Watford
Macdonald: Watford, Burnley & Huddersfield Town
Buckingham: Huddersfield Town, Burnley & Stoke City
Garganese: Burnley, Swansea & Huddersfield Town
---
TOP GOALSCORER
---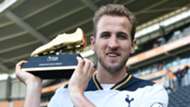 It seems like it could again be a straight shootout between Harry Kane and Romelu Lukaku for the Golden Boot, but could Alexandre Lacazette be the missing piece to Arsenal's jigsaw and fire them to the top?
Staunton: Romelu Lukaku
Wheatley: Alexandre Lacazette
Kinsella: Romelu Lukaku
Lee: Romelu Lukaku
Macdonald: Harry Kane
Buckingham: Romelu Lukaku
Garganese: Harry Kane
---
PLAYER OF THE SEASON
---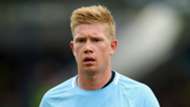 City and United players unsurprisingly dominate, with Kevin De Bruyne, Bernardo Silva and Lukaku all tipped for special seasons. But could Paul Pogba emerge from the shadow of his now former world record price tag and be the star many hoped he would become?
Staunton: Bernardo Silva
Wheatley: Bernardo Silva
Kinsella: Romelu Lukaku
Lee: Kevin De Bruyne
Macdonald: Kevin De Bruyne
Buckingham: Paul Pogba
Garganese: Harry Kane
---
BEST YOUNG PLAYER
---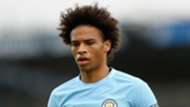 Despite being named the PFA Young Player of the Year for the last two seasons, there is no love for Dele Alli from our writers. Instead, the majority expect Leroy Sane to continue the fine form he showed in the second half of 2016-17...
Staunton: Marcus Rashford
Wheatley: Alex Iwobi
Kinsella: Tammy Abraham
Lee: Leroy Sane
Buckingham: Leroy Sane
Garganese: Leroy Sane
---
BEST SUMMER SIGNING
---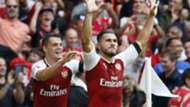 Sead Kolasinac's impressive performance in the Community Shield has alerted some of our experts to his potential while Bernardo Silva's early summer arrival at the Etihad Stadium has not gone unnoticed...
Staunton: Bernardo Silva
Wheatley: Sead Kolasinac
Kinsella: Romelu Lukaku
Lee: Bernardo Silva
Macdonald: Javier Hernandez
Buckingham: Jermain Defoe
Garganese: Sead Kolasinac
---
WORST SUMMER SIGNING
---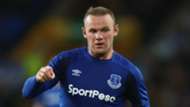 Few expect Wayne Rooney to have a positive impact upon his return to Everton while few have been impressed by Manchester City's defensive additions.
Staunton: Wayne Rooney
Wheatley: Wayne Rooney
Kinsella: Ederson
Lee: Danny Drinkwater (if he joins Chelsea! If not, Wayne Rooney)
Macdonald: Antonio Rudiger
Buckingham: Kyle Walker
Garganese: Danilo
---
MANAGER OF THE SEASON
---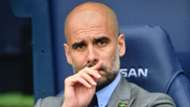 Having failed to win a trophy last season, Pep Guardiola is expected to get it right at Manchester City this time around while only one of our experts is backing a non-top six manager to be hailed come the end of the campaign.
Staunton: Arsene Wenger
Wheatley: Pep Guardiola
Kinsella: Jose Mourinho
Lee: Pep Guardiola
Macdonald: Pep Guardiola
Buckingham: Chris Hughton
Garganese: Antonio Conte
---
FIRST MANAGER SACKED
---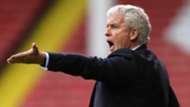 Stoke City face a daunting start to the season and as such Mark Hughes is tipped to be relieved of his duties early on. But could Rafa Benitez's disagreements with Newcastle owner Mike Ashley finally come to a head at St. James's Park?
Staunton: Mark Hughes
Wheatley: Marco Silva
Kinsella: Rafa Benitez
Lee: Mark Hughes
Macdonald: Mauricio Pellegrino
Buckingham: Slaven Bilic
Garganese: Paul Clement