A-League
Goal's Top 20 A-League players: No.5 - Alex Wilkinson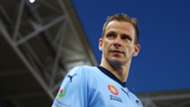 ---
5. ALEX WILKINSON | Sydney FC
---
Age: 33
Nationality: Australian
Position: Central defender
A-League apps: 172 (Central Coast), 29 (Sydney FC), 10 (Melbourne City)
A-League goals: 2 (Central Coast)
Other clubs: Jiangsu Sainty (China), Jeonbuk Motors (Korea)
Achievements:  A-League championship (Sydney 2016-17), A-League premiership (CCM 2007-08, 2011-12; Sydney 2016-17), AFC Asian Cup (2015)
---
WHAT YOU SHOULD KNOW
---
Manchester United's legendary manager once famously said: "Attack wins you games, defence wins you titles". It seems there's certainly an element of truth to that.
Look no further than Sydney FC's title-winning run last season where their attacking quartet of Bobo, Milos NInkovic, Filip Holosko and Alex Brosque blitzed all before them. They scored 55 goals during the regular season, two more than fifth-placed Perth Glory.
But unlike their counterparts out west, where Kenny Lowe's men conceded just as many as they had managed to net, Graham Arnold's back-line were stable, tight and well-disciplined.
They finished the regular season having conceded just 12 goals – in doing so, they eclipsed the previous record of 19 goals conceded which they themselves had set back in 2006-07 and one which Adelaide United match two seasons later. And in keeping with the theme of 19, they conceded 19 less than rivals Melbourne Victory, too.
But while Arnold chopped and changed his defence, alternating in using Seb Ryall, Matt Jurman, Aaron Calver and Jordy Buijs in the centre of the park, it was Alex Wilkinson who remained constant.
It says a lot about the 33-year-old who returned to Australia off the back of a stellar stint at Jeonbuk Hyundai Motors with murmurings that his end days were near only to cement himself as the league's best defender.
Wilkinson came through the ranks of Northern Spirit FC in the old NSL,  and featured for Ryde City Gunners and Manly United until moving to the Central Coast Mariners in 2005, where he remained for seven years.
He then left for Korea, made a name for himself as one of the most consistent there and was called up for the Socceroos too. But as it would turn out, those critical of his performances got their way and he was chopped following the Asian Cup.
He was undoubtedly disappointed, but last season proved that he still has much to offer.
While the centre-back might seem nice off the field, he's relentless and uncompromising on it. He's experienced and a genuine leader, something the Socceroos could probably do with at the back. And for all his faults and deficiencies – pace seems to be his only letdown at the moment – he makes it up with good technique coupled with the ability to read the game.
---
2017-18 PROSPECTS
---
As the Sky Blues prepare for the new season, the side will once again rely on Wilkinson at the back as they aim to successfully defend their title.
His ability to galvanise their defence will be even more important this season with Rhyan Grant set to miss a large chunk of the campaign due to an ACL injury whilst partner-in-crime Matt Jurman has followed in his counterpart's footsteps with a move to K-League side Suwon Bluewings.
Goal A-League 20:
No.6 - James Troisi (Melb Victory)
No.7 - Bruno Fornaroli (Melb City)
No.8 - Rhyan Grant (Sydney FC)
No.9 - Eugene Galekovic (Melb City)
No.10 - Andy Keogh (Perth Glory)
No.11 - Alex Brosque (Sydney FC)
No.13 - Kosta Barbarouses (Melb Victory)
No.14 - Isaias Sanchez (Adelaide United)
No.15 - Luke DeVere (Brisbane Roar)
No.16 - Michael Jakobsen (Melb City)
No.17 - Brendon Santalab (WSW)
No.18 - Michael Zullo (Sydney FC)
No.19 - Brandon O'Neill (Sydney FC)
No.20 - Matt McKay (Brisbane Roar)
No.4 in Goal's Top 20 A-League players will be named on Tuesday.