Goal's master of the week, presented by Virgin Mobile UAE: This is how Valverde dominated Real Madrid!
Barcelona managed to thrash their rivals Real Madrid 3-0 on their home turf during matchweek 17 of the La Liga, leaving a bitter taste in the mouth of the Merengue's fans.
The Catalan club continued in top spot with this win, sitting 9 points ahead of second placed Valencia and a grand total of 14 points away from Real Madrid, who still have a game in hand.
Going back to the happenings of the game, we can see that there were many unexpected scenarios from the beginning of the game. Yet, it was the leader of the Blaugrana, Ernesto Valverde, who came on top. What were the reasons for his victory? What details allowed him to better his opponent?
Choice: The Basque manager played with an unorthodox 4-4-2 formation that contained a midfield three of Busquets, Rakitic and Iniesta alongside Paulinho who played in a new role which had to connect the midfield and forward lines; supporting Messi and Suarez whenever they needed it. Everyone expected Barcelona to dominate from the beginning, but they surprisingly chose to sit back and suck Real Madrid in, who played with Kovacic instead of Isco to help pressure Barcelona from the front.
In hindsight, it was Madrid who dominated from the beginning and played better in the first half by creating more chances and building play better. However, it all went to waste like their chances, and this was regarded as a success for Valverde who managed to tire his opponent physically and mentally.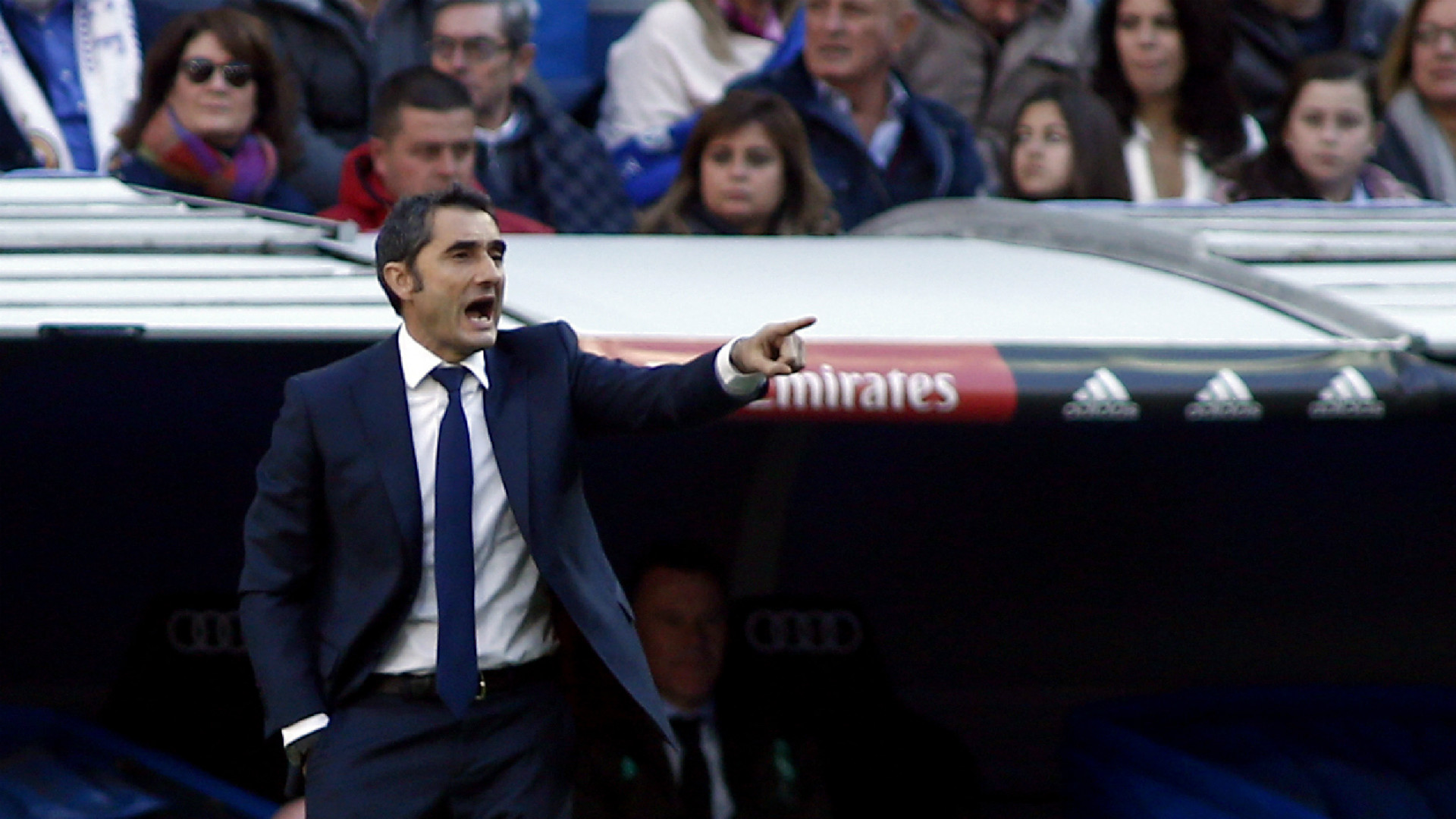 Flexibility: The benefit of such a Barcelona line up is their ability to transition from defending to attacking quickly and do in efficient fashion. This was evident in the beginning of the second half when they scored via a counter attack. It was Kovacic who was passive to free Rakitic and allow him to build play from deep before the goal, but it was also the excellent Barcelona positioning that allowed them to score.
Barcelona were no longer forced to play on the flanks, as the midfield quarter were able to dominate the play in the centre and were able to occupy spaces there. After Carvajal's sending off, things became much easier for the Catalans.
Control: Valverde was intelligent in his role of not following the tiki taka legend and focusing primarily on attack, but he was more pragmatic and managed the game better and this was shown when he brought Semedo on for Iniesta in the second half and moved Roberto to midfield.
Ernesto managed to change the mentality of the players and deleted the idea of constant attacking from their mind, gradually building the idea of a balance between attack and defence to defeat their opponents.